Arts
New Online Journal Amplifies Voices from the 'Wasteland'
Resisting erasure and challenging the dominant narrative of San Jose
is exactly what Cheers From the Wasteland aims to do.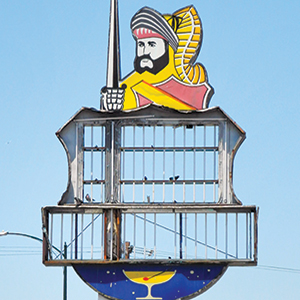 Is San Jose sometimes dubiously called "The Capital of Silicon Valley," indeed a Valley of the Heart's Delight? Or might it be more accurately described as a Valley of Ashes? It all depends on who you ask.
These are the questions at the heart of the new place-based online literary journal, Cheers From the Wasteland. The journal, founded by fourth-generation San Jose native Li Patron, recently released its first issue online, collecting works from ten different artists and authors, all of whom have lived, or currently live, in San Jose.
"Erasure is a concern of mine," Patron says. "This question of whose voices deserve to be heard, and which stories deserve to be told."
Resisting erasure and challenging the dominant narrative of San Jose is exactly what Cheers From the Wasteland aims to do. In it, a variety of perspectives are voiced through fiction, poetry, narrative non-fiction, visual art and music. All of the material is focused on the history, culture and identity of San Jose. Patron's own contribution to the first issue tackles the topic of erasure: a poem about her family's century of living in the city, provocatively titled "Before There Were Tech Bros There Were Patron Boys."
"The most difficult thing about San Jose is how isolated I've felt as a writer," Patron says, voicing a common complaint of local creatives. For a city of more than a million people, San Jose has been surprisingly bereft of artistic voice. Despite the hanging banners downtown that proclaim "I Create Here," one is often at a loss to name well-known San Jose artists. It's a problem that is felt now more than ever, as creative types are being priced out by the booming tech economy. Because of this, Patron emphasizes that Wasteland accepts submissions from anyone with San Jose ties, rather than just current residents.
"Sometimes when people move to Portland, OR, or Modesto or whatever, it's not because they're traitorous to San Jose," Patron observes. "It's because conditions here are such that they can't stay."
Cheers From the Wasteland's excellent first issue is a bold and powerful antidote to the creative wasteland of the valley, striking a unique voice that rings true to the city. Patron aims to continue releasing issues quarterly and says she is seeking submissions for the next installment. Featuring an "Inspiration Map," which can guide readers to the areas that stoke the creative fires of Wasteland's contributors, the journal can be found at cheersfromthewasteland.com.