Arts
Chicana/o Biennial Explores what
it means to be a Chicano
or Chicana Artist
The art of older and younger Chicano artists brings generations together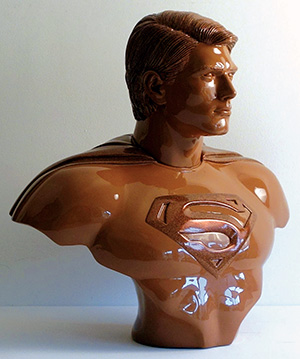 As the United States and the rest of the world hurdle toward an ever more globalized society, many aspects of cultures once separated by borders and oceans are intermingling in interesting and often unexpected ways.
This is certainly the case in the realm of Chicano art. The "5th Chicana/o Biennial" exhibition, opening Dec. 5 at MACLA (Movimiento de Arte y Cultura Latino Americana), will explore what it means to be a Chicano or Chicana artist. The "Biennial" looks for common threads across multiple generations of Chicano and Chicana artists, and examines the dialogue between older and younger Chicano and Chicana artists.
Held once every two years, the "Chicana/o Biennial" began in 2006 as a way to survey the various local, national and international artists who identify as Chicana or Chicano, according to Joey Reyes, curator of engagement and dialogue at MACLA.
"It was started as a way to offer a platform to look at this idea of Chicano and Chicana art," Reyes says of the "Biennial"—noting that narrative arcs and threads can be found in any specific artistic movement, and that includes Chicano art. "This show really was a way to capture that energy. I think it was really a way to kind of open it up a little more and to have a dialogue about what Chicano art constitutes and what it means."
In previous years the "Chicana/o Biennial" has been run by a single curator, but this year Reyes and his team at MACLA wanted to take a slightly different approach. They asked leaders in the Chicano art movement—both locally and from around the country—to select a younger artist whom they believed to be carrying the torch of Chicano art into the 21st century in creative and interesting ways.
As Reyes explains, he developed the idea after having a discussion with his former San Jose State University art professor Rupert Garcia. A prominent Chicano artist, Garcia suggested that Reyes look into a new Chicano artist.
"He said, 'I don't know if you know this artist, but he is someone who you should consider featuring in the gallery,'" Reyes recalls. The artist was someone Reyes was familiar with and respected, and it got him thinking. "I was interested in this cross-generational thing that was happening."
The Chicano art movement isn't exactly young, but it isn't ancient, either. The terms "Chicano" and "Chicana" first entered the lexicon in the 1960s as a way to describe a rapidly growing demographic—those individuals of Mexican descent who also feel that the United States is their home. According to Reyes, it is the idea of being both Mexican and American, or perhaps just Mexican-American.
In the early years it was associated with civil rights leaders like Cesar Chavez, and it was important because it was a term that came from within the community it was meant to describe. "Hispanic was a term that was given to them," Reyes explains, referring to Chicanos. "'Chicano' was a term they created for themselves."
The artist Ester Hernandez might be considered as being a part of the first wave of Chicana artists, and her work was most certainly politically charged. Hernandez is responsible for the iconic repurposing of the Sun-Maid logo. In a work of political satire, meant to draw attention to the exploitation of farm workers, Hernandez replaced the happy, smiling face of the Sun-Maid Girl with a sun-bleached skull.
Hernandez, who will exhibit her own work in the upcoming "Biennial," also chose the younger Chicana artist Shizu Saldamando to show her work as well.
In some ways it makes perfect sense that Hernandez would select Saldamando. Both have ties to San Francisco—Hernandez moved to the city from her birthplace in the San Joaquin Valley, while Saldamando was born in San Francisco before moving to Los Angeles. Both artists employ highly realistic illustration in their work. And both share a rebellious and punk rock aesthetic.
Other artists featured in the exhibition include Juana Alicia, Carmen Argote, Jesus Barraza, Melanie Cervantes, Adriana Garcia and many more. The opening reception will be held Dec. 5 at 7pm. The exhibit runs Wednesdays through Saturdays until March 14.
Chicana/o Biennial
Free