Arts
Young Minds
Two boys—the sons of Viet Than Nguyen and Thi Bui—have a new children's book, 'Chicken of the Sea'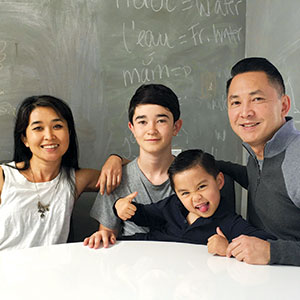 Chickens are partying with pirates thanks to multiple generations of Vietnamese American storytellers and the Djerassi Resident Artists Program in Woodside.
Novelist Viet Thanh Nguyen has already won the Pulitzer Prize for his book, The Sympathizer. East Bay cartoonist Thi Bui has already won the American Book Award for her graphic novel, The Best We Could Do: An Illustrated Memoir. Now their sons have collaborated on a new children's book, Chicken of the Sea. The party continues at Kepler's Books this weekend.
In the book, a band of intrepid chickens bail from the boredom of farm life to join the crew of the pirate ship Pitiless. After seeking fortune on the high seas, they wind up battling the Dog Knights, learning lessons of mercy and camaraderie in the process. Ellison Nguyen, now age 6, conjured up the narrative arc of the story, while Hien Bui-Stafford, 13, illustrated the images. Breaking from the more serious and political aspects of their parents' books, the two children participated in a lighthearted collaboration.
"Chicken of the Sea is completely whimsical and adept and has nothing explicitly to do with being Vietnamese," Nguyen, Ellison's father, says. "And I thought it was actually great that this is what the child's imagination comes up with—that there is some point he wants to make that doesn't have anything to do with the things that were important to me as an adult."
The backstory here is one of fatherly inspiration on multiple levels. A couple years ago, the Djerassi Resident Artists Program wanted to host the elder Nguyen, who had already co-founded the Diasporic Vietnamese Artists Network (DVAN) to connect diaspora writers, artists and poets with readers, audiences and communities the world over. For the residency, Nguyen tapped the diaspora from as far away as Australia, bringing together everyone—including Thi Bui and the Minnesota-based writer, Bao Phi, who had just collaborated on a remarkable children's book, A Different Pond—at Djerassi for a whole week. The story of a fishing trip taken by a Vietnamese refugee father and son, A Different Pond addresses themes of memory, longing, loss, hope and survival, but with hauntingly simple and poetic language. Bui's amazing illustrations bring the story to life, adding entire dimensions to the experience.
Nguyen the elder read A Different Pond to Ellison many times, and both became serious fans. So when Ellison accompanied his dad to the weeklong residency and was able to spend time with the creators of A Different Pond at the remote Djerassi setting, the experience triggered Ellison's creativity and he began drawing chickens and pirates.
"Ellison was already doing his own comic books, writing and drawing pictures, and they were all superhero comic books," Nguyen says. "But, for whatever reason, immediately when he was there, he drew Chicken of the Sea. He told me the story, so I just wrote the words down that he told me and posted on Facebook, and a McSweeney's editor asked if this is a real thing, could they publish it. I said, 'Of course.'"
At first, Nguyen the elder wanted to know if Bui could illustrate the book herself, but she was already involved with other projects, including a trip to Greece to interview refugees. She instead offered her son Hien, who liked to draw anyway. From there, it took several months for Hien to complete the images and several more months for the Nguyens to collaborate on the narrative.
Even as Ellison appears to be off to a successful, if early, start, he hasn't yet dedicated himself to the writer's life—at least not according to his dad. Agents have inquired about a sequel or even a prequel, but Ellison remains noncommittal.
"I think Chicken of the Sea was a moment of inspiration for him, and that's what it should be," Nguyen says. "I'm not going to try to force him to write books or to be creative. It's up to him. But I keep reminding him every once in a while, 'Do you have an idea? 'People are waiting.' We'll see if he takes the bait."
Chicken of the Sea Event
Jan. 18, 2pm, $5+
Kepler's Books, Menlo Park
keplers.org