Arts
Club Lido: Wild Eyes
& Occasional Dreams
At Club Lido in downtown San Jose, Vietnamese and Mexican subcultures coexist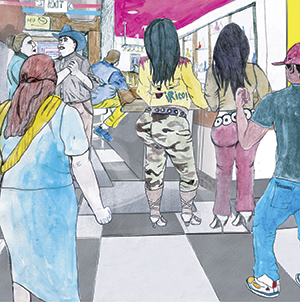 A homemade comic book, dilapidated and covered with dime-store sequins, appears on a pedestal at Empire Seven Studios. It opens up with graffiti-style lettering that quotes a 2007 Metro story by Dan Pulcrano: "To the eye, San Jose embodies a bastion of suburban banality, with a low profile downtown of '80s highrises surrounded by '70s subdivisions and '90s condos."
But underneath that banality, a seedy and unapologetically garish crossover of Mexican and Vietnamese subcultures thrive in a dumpy two-story paradise. A new exhibit by Angelica Muro and Juan Luna-Avin documents the scene. "Club Lido: Wild Eyes & Occasional Dreams" is proactive in its gaudiness and authentic in its depiction of marginalized San Jose heroes. On the wall opposite the comic book, huge mixed-media illustrations showcase the same colorful characters, each image depicting a realistic figure from Club Lido against a solid and pseudo neon-colored background. The colors are straight outta the children's section at Michaels: vivid lime green, bright yellow, pink and lavender. There's even a lit neon ring attached to the wall, right in the middle of it all, perhaps an allusion to a circus ring, which is not dissimilar to Club Lido.
To be more precise, Lido is actually two microcosms. On the street level, a dive Mexican bar blasts low-fi Banda music for cheap dancing chic-sters and barflies. (At Lido a lot of overlap exists between those two categories.) At the same time, upstairs, a Vietnamese dance club attracts karaoke slick-suiters and transgender patrons with nowhere else to go in suburban wasteland America. It's a masterpiece of a business plan, well deserving of its own art show. And in the show, people are dutifully illustrated. There's a punk rocker, a Banda drunk, some nonbinary folks and a few Vietnamese karaoke mavens in bad thrift store attire discarded from a '50s issue of Good Housekeeping.
None of this is fiction. Club Lido is a real place, of course, making the exhibit a purebred San Jose documentary of tacky genius. No other city could possibly have produced such a beautifully fucked-up conglomeration of marginalized outcasts. With such a huge percentage of Spanish- and Vietnamese-speaking people in San Jose, it's odd that the two diasporas rarely come together. Lido has always been that place and now, thanks to Empire 7 Studios, the drawings are on the wall.
Club Lido: Wild Eyes & Occasional Dreams
Thru Mar 4, Free