Arts
Tom Papa is Utterly Optimisitic
The squeaky-clean comic performs at Montalvo Arts Center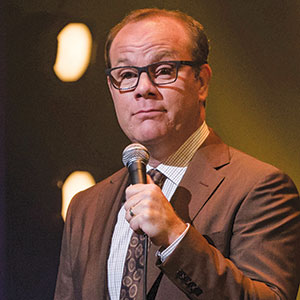 Comedian Tom Papa has a message. It's right there in the name of his new stand-up special, which debuted this week on Netflix. It's also there in the title of his forthcoming book of comic essays.
But the message—"You're doing great!"—is not exactly in keeping with these anxious, angry, aggrieved times.
Over the course of his two decades in stand-up, Papa has never felt comfortable trafficking in the kind of cynicism and negativity that drives so much of today's comedy. But even for this well-known "nice guy" comic, such a message doesn't come naturally.
"It really came out of my touring over the last couple of years," Papa says of the inspiration behind You're Doing Great! "I learned that people all over were having this overwhelming feeling that they weren't doing enough, weren't working hard enough, weren't happy enough. It was this weird kind of tension that people couldn't identify."
He came to the conclusion that the widespread angst of the Trump Era was, for most people, simply not justified.
"I just started dissecting it all and I realized, 'You're actually doing pretty great!'" he says. "You're being pulled in all these different directions, and there's a stress in the culture being propagated by the media. But if you look at your life, and take a deep breath, you'll see you're actually doing great. This is all life is supposed to be. People are going on social media and think they're supposed to be living these crazy, wealthy, private-jet lives—but it's all an illusion."
Papa digs deep into the theme over the course of You're Doing Great! He mixes sharp, observational humor with a kind of fatherly reassurance to a stressed-out and anxious audience.
"I just started telling people, 'Hey, if you're living a healthy, simple life, then you're doing great.'" Papa says. "And I'd come offstage and people would literally come up and start thanking me."
The problem, according to Papa? We still haven't adjusted to a world in which social media influencers, podcasters, push notifications and cable-news pundits are always in our face—showing us tragedies, travesties, greener grasses and memes galore.
"We are the first human brains in history that have had to deal with nonstop, bad information 24 hours a day in our pockets, on multiple devices," he says. "Before, you'd get your news at 6 o'clock, maybe you read the paper in the morning. And in between, you just dealt with your life. We're the first generation that has to deal with this onslaught, and it has to be managed—it's not something that you can passively hope to survive."
The theme of hope is explored in greater detail in Papa's book You're Doing Great!: and Other Reasons to Stay Alive (St. Martin's). Set for release this May, the new book is a follow-up to Papa's popular 2018 collection of comic essays, Your Dad Stole My Rake: And Other Family Dilemmas.
The book format, Papa says, works well with his upbeat, reassuring personality.
"I'm kind of an optimist by nature, and I realized the last couple of years that I could be positive and provide a real sense of hope in my act and still be very funny," he says. "It didn't have to be about attacking everything or being cynical about everything. There's already enough of that in the culture. So I just decided to be myself and talk about the fun parts and don't get mired in negativity."
Besides writing books and performing on stages around the country, Papa hosts a daily radio show on the recently launched Netflix Is A Joke Radio on SiriusXM. He has his own podcast, has hosted a Food Network series on the joys of bakeries, is a regular on late-night TV talk shows, has appeared in many TV series and movies, and is a writer and performer on the syndicated live radio show Live From Here, in which he presents portraits of American communities in a segment he calls "Out in America."
Through all of his work, he extolls a sense of possibility and purpose.
"Life moves very quickly," Papa says. "The years race by. I've had people in my life who have gone over to anger and cable news, and they are just addicted to it. You are going to be 80 years old not too far off. This is life—it's not always about what's coming up. These are the good times, right here. If you don't open your eyes, you're going to miss it."
Tom Papa
Feb. 7. 7:30pm, Sold Out
Carriage House, Saratoga
montalvoarts.org