Arts
'Creative in Common'
at the de Saisset Museum
New exhibit 'Creative in Common' uses art to explore familial ties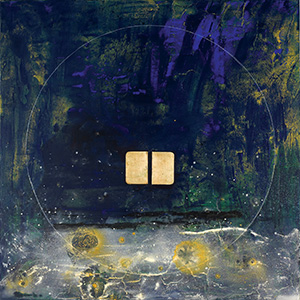 Branches of five different family trees spread their limbs across the de Saisset Museum's newest exhibition, which shows works in a context that's rarely explored on gallery walls. Creative in Common delves into artistic connections across generations and along family lines.
As the de Saisset Museum at Santa Clara University prepares to celebrate its 60th anniversary next year, a show examining family ties seems especially appropriate.
In the 1880s, Ernest de Saisset was a student at what was then Santa Clara College, according to Lindsay Kouvaris, curator of the exhibition. "His youngest sister is the one who made the bequest and that is why we're here today," Kourvaris says. "Family is a very important theme for us in that regard." With that in mind, Kouvaris set to work assembling the pieces found in the group show, which opened last Friday.
Running through mid-March of next year, the exhibit features works by five pairs of Bay Area artists who are related either by blood or marriage. There is daughter Ashlie Benton and father Fletcher Benton; spouses Enrique Chagoya and Kara Maria; Sam and Shingo Francis; Harry and Lynn Powers; and Andrew Romanoff and Inez Storer. Because one member of each pair is already represented in the museum's large permanent collection, the show celebrates the museum's history, but also, more broadly, explores the effects of tradition and continuity in shared creative lives.
"It is a very eclectic show in terms of the artists," Kouvaris says—"the themes they're working with, the styles that they're working with—but we felt that was okay."
The theme of family is carried not just by the artworks, but also in the informal, relaxed way the show is presented. One of the galleries has been renamed the "Family Room," and furnished with inviting chairs and tables.
"We wanted to turn it less into a gallery space and more toward a room that will be comfortable, where (students and visitors) can come in with a cup of coffee and do their work," she explains.
Certainly the modernist art on display is of high quality—if diverse in scope—and both beautiful and intellectually challenging. Viewers can compare Fletcher Benton's austere painted steel sculpture, Folded Square Alphabet O—a new acquisition balancing pop art and minimalist influences—with Ashlie Benton's oil paintings, Continuum and Departure; each demonstrate a mixture of motifs, including sketchy figures, writing and collage, resembling graffiti-tagged walls or billboards, with a decidedly populist and diaristic vibe.
Enrique Chagoya's trio of color etchings are whimsical yet disturbing depictions of mysterious narratives with art-historical parodies or homages, especially to the 19th-century Belgian fantasist James Ensor and the art-prom's king and queen, Diego Rivera and Frida Kahlo. In My Cat Santos Had a Nightmare, for instance, a crowd of half-dressed revelers faces the viewer while fires rage on the horizon behind.
In three acrylic paintings—Goodbye Ultra Violet, A Long Time Ago People Decided to Live in America, and Vortex—artist Kara Maria shares Chagoya's predilection for mystery and humor, but more abstractly, with a feeling for complex pattern and form.
More similar in temperament and method are the nostalgic works of Andrew Romanoff and Inez Storer. Several of Romanoff's pieces were created using the children's art product "Shrinky Dinks" and depict scenes of a fantasy boyhood spent among English royals in the wake of the Russian Revolution. Combining paint and collage, Storer conjures up fantasies from letters given to her by a pair of Mexican sister acquaintances in Ortiz, and imagines a more charmed life for the poet Anna Akhmatova during the Russian Revolution, in Gathering, A String of Pearls and Enormous Room.
In the end, Creative in Common makes no concrete assertions, nor does it point the viewer in any clear direction. The show comes to no conclusions, but instead asks open-ended questions about the true nature of family. Ultimately, it is up to the individual to decide what family means, and as such Creative in Common will surely mean different things to different people.
Creative in Common
Thru Dec. 5
Free