Arts
David Ligare's
Psychedelic Classicism
Triton Museum showcases vibrant works by the contemporary classicist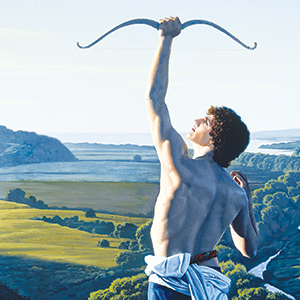 The work of David Ligare is classicist and idealized, and occupies the latter decades of the 20th century, but reflects influences from Ancient Greece and Rome and the Renaissance. However, it also extends into the 21st century with a relevance that is surprising and yet somehow familiar. His emphasis on light and perspective as well as "divine proportions" references Humanism of past eras, but updates those ideals with a stunning clarity of vision and purpose. The Triton Museum's current exhibit, featuring the paintings and drawings of Ligare is a must-see."
The Triton's main galleries are devoted to the exhibit, "David Ligare: California Classicist." Walking into these is a revelation—the sheer size and majesty of Ligare's paintings capture your senses. The light, which Ligare says is a result of having grown up along the Pacific Ocean, illumines the subject in each work with a distinct aura.
Perspective, as found in classical schools of painting and often eschewed by modernism, is a hallmark of Ligare's paintings. He positions the viewer in relation to the subject to invoke balance and proportion, taking the eye to a distant horizon or a calm linear swath of ocean.
Ligare notes that his interest in the visual language of Greco-Roman history led him to appreciate 5th-century BC Greek sculptor Polykleitos and the French Baroque painter Nicolas Poussin, both of whom developed ideals of classicism. Centuries apart, these leading figures continue to influence those seeking a classic rigor and harmony in art. Their core belief is that proportional structure provides a visual, harmonic equivalent to music that in turn can speak powerfully to a spectator.
Ligare identifies three basic elements that guide him in creating his art: structure, surface, and content—structure being the geometric design and proportions; surface, the appearance of nature recreated in the painting; and content in the communication of a specific idea.
This may sound cool and detached, but the effect of Ligare's work is decidedly neither. The viewer is pulled subtly into the painting. It may resemble a photograph in its clarity and smooth precision of representation, but its gaze is purposeful and commanding, leading the viewer's eye with a steady hand. The work isn't realism, per se—rather, there is an idealized, hyper-real edge to the work, and sometimes a fantastical or whimsical element0.
"Penelope," (1980) one of Ligare's earlier works, poses a seated woman against the horizon of a placid sea. She looks idly toward the viewer, relaxed and barefoot, bathed in afternoon light. Yet there is a tension in how alive she appears, how she might rise and walk at any moment. We remember the tale of the Odyssey, and how Penelope waits for her husband's return—and here find a contemporary incarnation, in modern chair, by another sea.
"Landscape with a Running Horse," (1990) exquisitely captures motion in a snapshot, a white horse mid-stride, muscles flexing and tail flying, against a pastoral landscape. Perspective here emphasizes the source of light casting photographic shadows across the horse and landscape.
A series of still lifes recall ceremonial offerings, simple juxtapositions of nature and manmade objects, or thoughtful references to events. One in particular, "Still Life with Grape Juice and Sandwiches (Xenia)," (1989) evokes the Eucharist, but also makes homage to the basic meal supplied by a community kitchen for the homeless in the artist's home region of Salinas.
The range and diversity of Ligare's subject matter is invigorating, and this exhibition delivers a feast of his finest works, offering up early and later works side by side, so that one can observe the arc of the artist's thought and development. A parallel exhibit in the Triton lobby—"David Ligare: Primary Structures"—unveils works never before exhibited, revealing yet another layer of Ligare's connection to antiquity. These seemingly simple abstractions, juxtaposed with his classicist work, demonstrate the depth of his understanding of classic ideals.
David Ligare: 'California Classicist' & 'Primary Structures'
Thru Aug 14 & 21, 11am, Free
Triton Museum of Art, Santa Clara