Arts
Gone But Not Forgotten
'Detritus' collects the debris left behind by the artistic process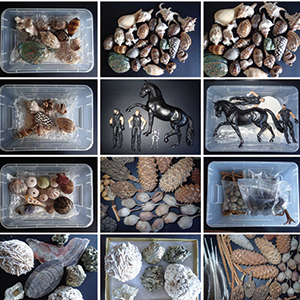 Earlier this year, Hillary Clinton commissioned a floral sculpture from the artist Libby Black—purple tulips in a vase made out of paper and hot glue. In what looks like a selfie, Clinton poses with the flowers behind her on a desk.
It's the most melancholy work on display in Detritus, an exhibit at the San Jose Institute of Contemporary Art. The show is dedicated to the artistic process and what's left behind on the studio floor after the art is done.
In Clinton's case, it's not that the flowers have the appearance of a sad bouquet. It's that they look like an inadequate consolation prize for what she, and a majority of the American electorate, recently lost. Their inverse, a ghostly white prototype, sits on a shelf in front of the photograph. Coupling Clinton's image with the original model lends an emotional punch to something as innocuous as white paper and glue.
The bulk of the exhibit is cleverly, and beautifully, arranged—and I mean this in the most nonpejorative way—garbage. There are colored pencil shavings, fabric threads and cracked eggshells stacked up in tall glass cylinders and mason jars. Emptied spray paint cans are lined up in the shape of an arrowhead. Busy blotting canvases are dotted and blurred with pinks, blues and grays like so many Jackson Pollocks.
The curators, Kevin B. Chen, Lisa Ellsworth and Lordy Rodriguez, have made a convincing case that there is no such thing as garbage. As artists themselves, they have designed a compelling, cohesive display of waste products. If you're an artist who's curious about other people's processes, or simply curious about the practical building blocks that go into a sculpture or painting, Detritus yields a multitude of props and tools along with shelves and shelves of minutiae all rendered dull or unusable through repeated use.
Most intriguing, though, are the failures and experiments. Jamil Hellu and Darrin Martin contributed two test prints from a video and photo series called "Subjects Unknown." There are two framed photographs of what could be two gay men. In both pictures, they sit close together. In the first, they're at the bottom of a long stone stairway, and then, in the second, on grass in a park. The men are unidentifiable because their faces are smudged with black ink. But in the final series, the collaboration between Hellu and Martin (also life partners) reveals their faces to the viewer. The series is an exploration of male portraiture as well as a compelling self-portrait of the couple themselves.
Tanja Geis affixed a black rubber glove and sock to the wall. The only information given is that they belong to a collagraph print series. Out of context, they appear to be totemic items retrieved from some lost tribe of collage artists. Whitney Lynn shredded what must have been a great deal of money, only to turn it into a tattered globe that's sagging on top of a pedestal. But knowing its history adds to the meaning of the piece. Originally, it was on stage in Lynn's performance piece Searching for Diogenes.
Searching for meaning at Detritus, though, is probably beside the point. One artist contributed a tower of sketch notebooks. No sign indicated whether they were off limits to thumb through. In that sense, there's a great deal of curation devoted to surfaces. Mostly the exhibit works as an introduction to not only the abstract idea of artists and their varied approaches to creation, but also to the working lives and oeuvres of over 100 artists themselves. Detritus documents an artist's mind in process, the thinking that shapes and devises a work of art, including the false starts. The space between inspiration and execution, what's left on the final canvas, that, however, still remains a mystery.
Detritus
Thru Sep 10, Free
San Jose Institute of Contemporary Art
sanjoseica.weebly.com