Arts
Diane Samuels Visualizes
the Written Word
New San Jose Institute of Contemporary Art exhibit tells 'a Long Story'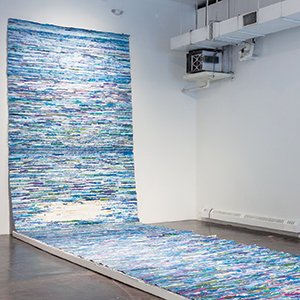 Diane Samuels is a bibliophile's bibliophile. In the exhibit "It's a Long Story" at the San Jose Institute of Contemporary Art, she's transcribed, verbatim, lengthy tomes like Herman Melville's Moby-Dick and The Odyssey by Homer.
But her enthusiasm for the written word, including contemporary authors like Salman Rushdie and Richard Powers, doesn't muddle what she accomplishes with her visual inventiveness. The words form the essential core of each piece, but they complement and enhance the sculptural nature of her paintings and drawings.
At 47 by 8 feet, she constructed her Moby-Dick, or The Whale, Herman Melville to match the heft of that 19th-century author's nautical magnum opus. The top of the collage hangs on the wall, extending down to land on the gallery floor like the unfurled tongue of a very large cetacean. "I knew it was going to be a long scroll," Samuels says, "that it had to be eight feet wide to get the longest page on one line." Having said that, you can only see the lines of her handwriting if you're up close. Every one of Melville's words is there, but it's not meant to be read like a book you hold in your hands. The sentences are at rest, submerged inside waves of multicolored strips of paper.
As far as Moby-Dick's final 48-foot length was concerned, she had a rough idea when she began the piece but just kept adding to it until it was finished. The process of painting over her old drawings ("I don't want to buy any new paper," she says), ripping them into strips and then gluing them together took about nine months for her to complete the project. Samuels arrived at the idea of transcribing books like these—and coming up with visual equivalencies—while she was working on an earlier series. "I would listen to audiobooks that had some meaning to me in life," she says, "classics like Moby-Dick and Don Quixote because the drawings would take a really long time."
Then Samuels thought, "Why am I just listening to these books? Why don't I do something with the books that really mattered to me in my life?" With Shakespeare's Romeo and Juliet, her most recent work from the series, five separate scrolls hanging side by side recapitulate the play's dialogue. The artist created them from almost 3,500 pieces of torn gampi paper, made from a Japanese bark. She gilded the top edges and then color coded other parts of the play with different inks. The Montagues appear in blue violet, the Capulets in red violet, the dead in deep red. And, in addition to Shakespeare's original text, Samuels included love letters from her husband and a letter her grandfather wrote to her parents in 1935.
She put these various pieces of Romeo and Juliet together while thinking about being how love can go right and how it can go wrong. "With all that's going on now with marriage equality, fighting for love is very profound." The process of delving into, reproducing and then moving on from one work of literature, however, can leave Samuels feeling bereft. "When I'm completely enveloped in the text, I feel physically embraced by the proximity of the page I'm transcribing," she says. Samuels has the same experience when she's reading a book. "I don't want it to end when it's been such a huge part of my life."
What's compensatory for Samuels about that sense of loss is the spiritual, even monastic, aspect of her practice. "After I started this work, I read about scribes. They actually embody the text by physically transcribing and copying it," she says. "In this particular process with all of these transcriptions, I read a line or a sentence from the book out loud, and then I transcribe it, and I say it again. I'm hearing the text in a way that I don't hear it when I'm reading to myself."
Samuels is already at work on her next transcription, made from the recycled paper of a redwood tree. The book it's based upon is The Overstory by Richard Powers, and she's already read it through twice. "It's been compared to Moby Dick, in that there's a sense of human and nature on the water. And in The Overstory, it's human and nature on land," she says, exclaiming, "If I can tell you how much I love this book ..."
Diane Samuels: It's a Long Story
Thru Feb 3
San Jose Institute of Contemporary Art
[ http://sjica.org/ ]sjica.org