Arts
'Fatal Laughs':
The Art of Robert Arneson
'Fatal Laughs' exhibit showcases the career
of the prolific, funky, vulgar genius, Robert Arneson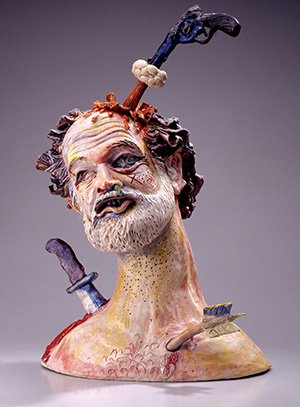 Humor has always been a powerful tool for exposing, exploring and deflecting the darkest aspects of the human condition. The recent death of comedian and Bay Area resident Robin Williams—who transformed depression into brilliant comedy—has only served to crystallize this truth.
When it comes to tortured souls turning their inner turmoil into vivid and uproarious artistic expression, Williams is not alone. A new exhibit opening today at the Cantor Arts Center at Stanford University, explores the work of another local artist: the late Robert Arneson.
Fatal Laughs: The Art of Robert Arneson presents six sculptures by the renowned ceramicist, bronze sculptor, draftsman and painter who is known for his no-holds-barred sense of humor, which perplexed, offended and dazzled.
His refusal to observe traditional boundaries got him into hot water when his bust of the assassinated San Francisco mayor, George Moscone, proved insufficiently respectful to Dianne Feinstein and others. The work is now owned by the San Francisco Museum of Modern Art, and the flap showed Arneson the power his art had.
Installed in the Cantor Arts Center's circular Osher Family Gallery, overlooking Rodin's "The Thinker," Fatal Laughs fits in with the classical architecture nicely, while simultaneously subverting the order represented by that formal style. With the earliest piece dating from 1964, and the latest from 1990, this show provides a synoptic overview of a prodigiously productive and influential career—one that helped establish ceramics as a legitimate art medium, while reflecting the tumult of American life during those crucial decades.
In 1963, Arneson had an epiphany in a bathroom at the University of California at Davis, where he was teaching (if you've ever been to the UC Davis campus, you'll likely remember Arneson's "Egghead" series). At 33, just starting to find his way as an artist, he had been invited to show at the roof garden of the Kaiser Industries building in Oakland. Thinking about the utilitarian craft tradition of clay at the time, and the disrespect accorded to ceramicists, like UC Berkeley's Peter Voulkos, who were attempting to elevate it to a serious medium, Arneson realized that "the ultimate ceramics in Western culture" were toilets. He remembered his internal monologue later: "Hey, man, you're on it. This is it. This little pot has no heritage And it is 100% ceramic!" (He probably knew then of Marcel Duchamp's dictum that bridges and plumbing were America's main contributions to the world.)
Accordingly, he made "Toilet," a life-sized fixture that, soiled and decrepit, stands in opposition to the cool glacial perfection of Duchamp's infamous 1913 piece, "Fountain," an unaltered store-bought plumbing fixture.
The young Californian's brownish and slumping john, was both abject and hilarious—"funky," to employ the vernacular of the 1960s, and the term with which art historian Peter Selz christened the work of Arneson and others in a 1967 show at the Berkeley Art Museum. Replete with red ceramic turds, "Toilet" reflected its creator's exuberant, uncensored humor: "It was vulgar. I was vulgar" the late Arneson said.
Arneson watched the reactions of Girl Scouts on a field trip as they encountered the piece: "They crawled around and looked at it. They all had a good time. They all proceeded to climb up on my pedestal and look down inside, and they knew what they were going to find. They all went 'Ooooooo,' laughed and screamed, and were delighted."
Outrage was the reaction of one senior Kaiser executive, who felt the piece attacked capitalism, and had it removed. (Later retitled "Funk John," it was purchased by a female student, but was destroyed by her enraged husband.)
Encouraged by both plaudits and brickbats, Arneson next made "His and Hers" (1964), matching side-by-side commodes that are, if anything, even more risque, and probably discomfiting to many people even today. The male side sports an erect red penis as a flush handle; the female's labial toilet seat rests beneath a water tank of twin breasts as pointedly threatening as missile nose cones.
"Assassination of a Famous Nut Artist" (1971) is classic Arneson. Employing the format of the portrait bust, in this case a comic self-portrait, the artist mocks his reputation for bad-boy overkill; a pistol floats above the effigy, firing a round into its head.
"Global Death and Destruction" (1982Ð83) finds the artist in a more somber mood—attacking the Strategic Defense Initiative's militarization of outer space with a melted head atop a charred world set atop a pedestal of ruins inscribed "War Memorial."
"Wolf Head" (1989) is one of many homages Arneson made to Jackson Pollock, with whom he identified, while "Primary Discharge" (1990), with red, yellow and blue effluvia streaming from the eyes, nose and mouth of a white mask, explores modernist color theory and, probably, the cancer that finally felled Arneson after a 17-year battle.
Arneson said of his many comical self-portraits: "This self is not the inner self. You end up acting, becoming someone else although you use your own features." The traditional notion that the artist invariably reveals himself in and through his work, is, for better or worse, more accurate.
Fatal Laughs: The Art of Robert Arneson
Cantor Arts Center, Stanford