Arts
Jay DeFeo at San Jose
Museum of Art
Artist finds the silver lining of dark clouds in new exhibit, 'Undersoul'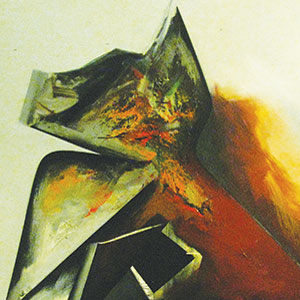 A great big dog is lying on his side. He's at rest against a concrete floor—but it's not a peaceful sleep. His dreaming mind is catching on fire. Anxious, orange flames spread through his limbs, crackling along the way, until they erupt from his back to permeate the atmosphere. The rust red smoke from his body is slowly eating away at the oxygen and charring the gray foreground to brown.
Jay DeFeo's painting Firesign (1984) is the largest, most colorful and emotionally affecting canvas in the exhibit "Undersoul," a succinct survey of the artist's work at the San José Museum of Art through Jul. 7.
San Francisco's Hosfelt Gallery displayed a thrilling and more expansive selection of DeFeo's (1929-89) paintings in 2015. But in that show, "Alter Ego," Firesign might not have held the same power as it does now in San Jose. It would have been competing for your attention with equally ominous works like Hawk Moon No. 1 and Hawk Moon No. 2. There I might not have projected my own dog's image onto the constellation of hard geometric edges. Instead of a triangle, I could see an ear. A snout where it's just a snub-nosed square. Two oblong, mismatched forms turned into his splayed, mottled legs—they used to run in place when he napped. Firesign filled up the empty space where his energy used to be. I couldn't see anything else on the canvas. DeFeo momentarily returned my dog to me, but in doing so, she'd made a painful portrait of what I'd lost—an animal in distress, its combustible breath and inner life about to expire and disintegrate.
Most of the other paintings in "Undersoul" share the same neutral or understated slate and charcoal gray palette. Along with the artist's black and white photographs, the curators have established a cold, unsettling—but not off-putting—mood. DeFeo takes a drone's eye view of ordinary objects, tilting, distorting or cutting them apart so that familiar things drift away from the purpose they were originally designed to fulfill. In one untitled work from her One O'clock Jump series, the wall text tells us that the pale blue, translucent shell in front of us is actually "the plastic edge of a broken Scotch tape dispenser." We can see inside its hollow interior, but it's been vivisected so that it becomes unrecognizable. And we also have the artist's photographs and contact sheets that offer blueprints for these abstractions.
In her Statement of Visual Concerns DeFeo wrote, "In my 'circular attitude' toward my work, work in progress is very often related and linked to past images." You can see the connections she's referring to and making throughout "Undersoul." Her larger paintings borrow or repurpose shapes that appear in a series like the ones that appear in her Shoetree sketches. But she'll bend and distort those shapes to build and stir up the narrative. You can see the progression of her thinking process in an exhibit like this, from the photograph of an actual shoe tree that's hanging in her studio to the smaller drawings of it and finally, to a painting in which that precise image is broken down, washed out or fractured.
Which brings us back to the juxtaposition of Firesign against a monochromatic gallery filled with blues and grays. Those watery paintings and drawings contain a variety of cold emotions, passive ones that display the aftereffects of hurt and sorrow. With Firesign, DeFeo, wielding hotter colors, is the cause of all that hurt. She's burning a particular place, an unwanted memory perhaps, down to ash. It's more imprecise than a de Chirico dreamscape but just as wearying and desolate. Nothing in the waking world looks quite like it but on more than one occasion we've all gotten lost in the shadows cast off by those high, wide walls. A life is still breathing there, but the breathing is labored. As one visitor wrote on the comment sheet they left behind, "It's dark with a little hope."
Undersoul: Jay DeFeo
Thru Jul 7, $10
San Jose Museum of Art
sjmusart.org