Arts
Wild Western Art
California artist Joe De Yong made a name for himself painting cowboys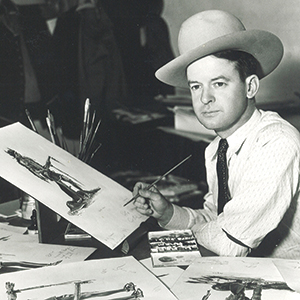 Of all the cultural archetypes that America has given the world—the astronaut, the baseball player, the blues musician—none is older, more enduring or more deeply wrapped up in a peculiarly American brand of romanticism than the cowboy.
We all know the trappings: the hat, the boots, the lariat. And we all assume that the figure of the cowboy as we know it came directly from the movies. But Hollywood didn't invent this most iconic of American tough guys.
Santa Barbara-based writer William Reynolds has written a biography of one of the unsung creators of the cowboy image in the popular imagination. His name was Joe De Yong, and he was an artist, illustrator, creative consultant and, most importantly, a genuine cowboy. As portrayed in the beautiful new illustrated book, Joe De Yong: A Life in the West (Alamar Media), De Yong represented the direct link between the paintings of famed cowboy artist Charles Russell and the Western films that dominated Hollywood's golden era.
Russell was a Montana ranch hand in the 1880s when he started painting watercolors to document everyday frontier life in the American West. By 1900, Russell had become famous around the world for his depictions of the American cowboy, giving a visual element to the aesthetic of the already disappearing "Wild" West.
De Yong was a much younger cowboy, who found his artistic talent only after he was struck completely deaf by meningitis at the age of 19. Both men were born near St. Louis, and according to Reynolds, De Yong became the first and only artistic protégé of Russell. After Russell's death in 1926, De Yong settled in California, bringing the Russell style to the burgeoning movie industry.
"He had this vision," Reynolds says, "to carry on this desire for authenticity that Russell had instilled in him in the 10 years that he worked with Russell as his protégé. And it was Joe who realized that the only way to do this was to move into the motion-picture business because it was already becoming such an important part of the fabric of the culture of the nation and the whole planet."
The Hollywood cowboy, of course, existed before Joe De Yong came along. But the cowboy as embodied by Tom Mix and William S. Hart was an exaggerated and dandified version of the real thing. In the '30s, De Yong had the good fortune to get hired on by legendary director Cecil B. DeMille, a well-known stickler for authenticity. From there, he became costume designer and storyboard consultant on DeMille's Western, The Plainsman, starring Gary Cooper.
"Joe recognized that even in popular film, there had to be a basis of where it all came from, that it was not just costuming," says Reynolds. "It was form following function in the classic sense, in his view. He was concerned with how the horses were turned out, how the (Native Americans) were portrayed. And, for the most part, DeMille was receptive to that."
De Yong went on to work in several other pictures as a consultant and designer, most notably in Shane, the 1953 film that is widely considered a classic of the genre. But beyond his own work, Reynolds credits De Yong, who died in 1975, with being a dominant influence in how the West was portrayed for decades, from the heyday of Gary Cooper and John Wayne to the acclaimed 1989 mini-series Lonesome Dove.
As time went on, however, De Yong had a harder time maintaining his standards working with directors who were always looking for shortcuts.
"Joe would know that a Crow man is not going to look the same as a Cheyenne man," Reynolds says. "But so many directors would say, 'I don't care.' And Joe would just walk off the set. He'd say, 'Nope, it has to be right. I know a lot of people in that tribe.' He used to have a saying, 'I don't want to be close. I want to be right.'"
As a boy growing up in Santa Barbara, Reynolds actually had an occasion to meet Joe De Yong, who had become a kind of amateur historian of the California vaquero. Reynolds' father was in television and brought his 12-year-old son to a Hollywood saddle shop to meet Joe, well into his 60s at the time.
"The whole thing was probably 15 minutes," Reynolds recalls. "Driving back, my dad said, 'I want you to know, you just met a real cowboy. You remember him.'"
Joe De Yong: A Life in the West
William Reynolds
Alamar Media, $50
alamarmedia.com