Arts
Life of Python: John Cleese
and Eric Idle
The British sketch comedy pioneers consider meaning of life on tour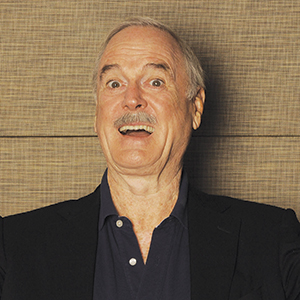 After a decades-long, massively successful comedy career, John Cleese needs money. That's not cynical speculation. It's fact. Just ask him.
"There's two reasons to work," Cleese says. "One reason is because you love it. And the other is because you need money. You can arrange any particular piece of work on a spectrum between those two poles. And this is plumb in the middle."
Known to American audiences for his work with Monty Python and his uproarious turns in A Fish Called Wanda and Fierce Creatures, the British icon got "cleaned out" by a $20 million divorce settlement last year. Luckily, Cleese can make a sufficient wad by chatting onstage with his friend and longtime collaborator, Eric Idle, on their Together Again At Last...For the Very First Time tour.
Since meeting at Cambridge in 1963, Cleese and Idle rose to international stardom after the success of Monty Python. Cleese starred as the tall, manic face of the troupe and Idle played more supporting roles, while overseeing sketch editing and song composition. Their comedy's durability is undeniable—Cleese's performance in the "Ministry of Silly Walks" sketch, which debuted over 40 years ago, just got made into an iPhone app.
After Python, the two occasionally got back together for reunion shows. But this latest tour isn't a rehashing of their old hits. Rather, they eschew any of their known material for gossip, off-the-cuff riffs and less-performed—but still exceptional—sketches, like a visit to a scatter-brained memory teacher. The show evolves organically, dependent upon audience reaction.
"We can work very, very fast together because we're both flexible," Cleese says. "It's easy for us to let go of ideas, twist ideas and make different shapes out of stuff we're getting bored with. It's like playing tennis with someone who is exactly as good as you are. It brings out the best in you."
In his later years, Cleese has turned towards teaching seminars on creativity, writing books on psychology and drafting his memoirs. This introspective stance has lead him to conclusions like "there is no hope," a sentiment he shared on Stephen Colbert's late show. It's an observation based in the tremendous difficulty he's had in financing almost all of his projects.
After unanimous studio rejection, Pink Floyd ponied up most the dough for Monty Python and the Holy Grail. Life of Brian only got made when George Harrison stepped in to be its executive producer. And a recently written adaptation of Roald Dahl's The Twits, got tossed to the scrap heap after Cleese declined to make the script "worse" by taking the notes of an unfunny producer. Essentially, he thinks the suits haven't got a clue.
"The people in charge didn't know what they were doing," he says. "They are too stupid to realize how stupid they are. Almost nobody can predict what's going to happen. But you see an awful amount of people running around, thinking that they're capable of understanding things and forecasting things when they have no chance at all."
Cleese admits he isn't infallible, but his hopelessness toward the powerful applies more broadly. Recently on Twitter, where he has 5.4 million followers, he has ripped Rupert Murdoch's press empire, accused serial sexual abuser, Roger Ailes and most especially, Donald Trump.
"It's quite clear that he's a nasty man," Cleese says. "And that he has no attention span. The one thing the president of the United States needs is an attention span. The alarming thing is that 40 percent of the American voters think he is a good thing. That's not a place to start a sane society. America is full of some of the brightest people I've ever met. And another large slice of it is completely moronic."
Regarding the world's many issues, Cleese feels there must be a focus on ending the "vulgar, unkind, brutal attitude that a lot of men seem to have towards women." And personally, after spending a good deal of time thinking and writing about his life, Cleese has arrived at a sensible philosophy for the rest of his years.
"I've discovered the things that make me happy are incredibly simple: spending time with people I love, reading, enjoying beautiful things to look at, enjoying food, thinking, being kind and taking exercise," he says. "And none of those are very expensive."
John Cleese & Eric Idle
Nov 5-6, $60-$100
San Jose Center for the Performing Arts