Arts
KSJS Turns 50
KSJS has been experimenting with new sounds for 50 years.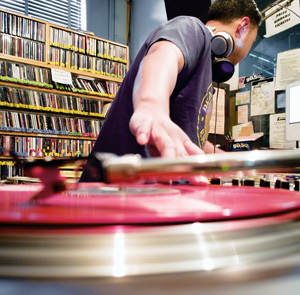 Three years ago, Nick Martinez walked past the on-air room of KSJS-FM (90.5), the student-run radio station at San Jose State University, and heard something strange.
"What the hell is that?" he asked.
"Oh, it's called dubstep," came the reply.
Now, some have argued that dubstep doesn't deserve to be called music, much less played on the radio, since it can sound like a remixed car accident to some ears. But according to Martinez, the station manager at KSJS, this is just the point of noncommercial student radio. "Our role [in San Jose] is to open listeners' ears to new music and new talent," he told me.
On Monday, Feb. 11, KSJS will celebrate its 50th year of broadcasting from the SJSU campus, and while one of its current roles is to expose a wider audience to new music, its primary role has never changed. The station was founded in 1963 by SJSU professor Clarence Flick as a pioneering 85-watt FM station designed to give students hands-on experience in radio broadcasting. At the time, only a quarter of the student population even had FM receivers, and the programming consisted of four hours of opera, classical music and news every evening. KSJS now broadcasts 24/7 at 1,500 watts and reaches almost 35,000 listeners per week.
Not to say that a college radio station always runs smoothly. Besides Martinez, an alumnus who worked at KSJS and was later hired to manage it, the entire leadership staff is made up of current students: students who get locked out of the building at 3am during their shows and then cut their arms opening the window trying to get back in; students who can't figure out the CD player and end up broadcasting dead air. "That's the point!" said Martinez. "Let's do the dead air! Let's do the mistakes!"
Some students come in with dreams of being a professional DJ only to find that they would rather discover new bands—or market them. They get involved on the production side or on the web team. But again, according to Martinez, that's just the point of noncommerical student radio, in terms of both music and experience: "KSJS is the place to experiment and see what you do like, and what you don't."