Arts
Gilroy Artist Lands Show in London
South county entrepreneur Katherine Filice finds a new expression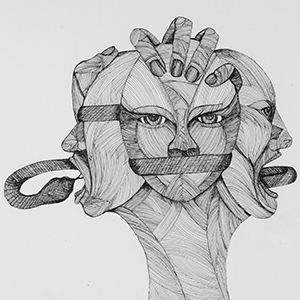 Katherine Filice never expected doodles would pave the way for her first ever art show in London. In fact, when she first started putting ink to paper, she wouldn't have thought to show her work to anyone, let alone an entire art fair half a world away.
Offering a startling glimpse into everyday emotions, Filice creates pen-and-ink designs in the hopes that her art resonates with others, emphasizing that we are living a shared experience. Even the most well-adjusted people have fleeting moments of intense emotions—feelings of frustration, pain, sorrow or betrayal.
An active member in the community and executive creative director of a thriving marketing firm in the heart of downtown Gilroy, Filice has helped many to develop their brand. From multiple contracts throughout Gilroy and Morgan Hill to cities around the region, agencies and educational institutions including San Benito High School and San Jose State University, Filice, through her company, Articulate Solutions, has supported the marketing efforts of many entities.
But after hours of meeting with the public, Filice steals away from her busy life and retreats to her home studio—an elegantly simple space with a wooden drafting table, a window and a few sitting chairs.
"I draw energy from being alone, I leave this space empowered," says Filice. "This really is church to me."
With exceptional motor control, Filice spends at least a month working on a single design by hand—typically sketching freehand and then bringing the work to a light table. "Functionally, to get the lines to flow over form is really hard," she says. "Someone told me once, it looks like I've peeled all the skin off."
The look of the musculature in her work, she says, was a byproduct of the technique, rather than intentional. Just two years ago, Filice, 54, picked up a pen and began drawing lines—hundreds upon thousands of curving lines. Eventually, recognizable forms began to take shape. The images are reminiscent of the posed human cadavers now on display at The Tech Museum's new "Body Worlds: Decoded" exhibition.
Which isn't to say her illustrations are scientific in nature. Rather, Filice prefers to take something real and draw it using a realist approach, but then she likes to steps outside of that reality and into surrealism. "All my work is a commingling of those two states: the dream and the awake," Filice says. "That drives a lot of the symbolism in the stories."
Archetypal imagery, oftentimes religious in nature, like a snake or wings, is featured throughout Filice's body of work. For Filice, there is a story and a language to each drawing that is consistent through all the pieces.
"Something with feathers or wings in reference to the divine, an angel or spirit or [something] uplifting, something positive or transformative," she says. "Where the serpent is typically representative of somebody not telling you the truth or not being true to themselves or not showing their true face to the world."
Many of Filice's works reveal a duality that is present within all of us. One piece in particular, "Silenced," is a manifestation of that. In the drawing, which Filice says brought her to tears and which she views as a breakthrough piece, features three faces or masks.
"One day I just covered her mouth with a snake and I just got so emotional," says Filice. "I realized what I was trying to say was that you have all these faces you present to the world. All of us do. We wear masks for work or whatever social situation we're in. We put on a mask. And none of them is really who we are, but they're all kind of lies and they all take away your voice."
In April 2017, she took the plunge and tweeted some big names in contemporary art, including the London-based Be Artist Be Art magazine and Artrooms. To her elation, Be Artist Be Art picked up one of her pieces for the magazine and soon Artrooms was tweeting at her, encouraging her to enter her application for Artrooms Fair London 2018.
In September, Filice learned that she was one of the artists selected to appear—out of 1,150 applications from 65 countries. In January, Filice's work will be shown at the Meliá White House in London, where it will surely be seen by representatives from many other art galleries, foundations and private collectors.
Katherine Filice
Jan 20-22
Artrooms Fair London, England
art-rooms.org