Arts
'Kimberly Akimbo' charms
at Pear Avenue Theatre
In the Pear Avenue Theatre play 'Kimberly Akimbo,' main character
Kimberly Levaco ages at 4.5 times the normal rate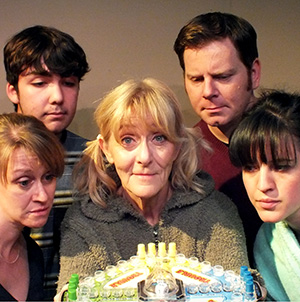 Being a teenager is never easy, but it is especially tough for Kimberly Levaco. Circa 2001, in blue-collar New Jersey, 16-year-old Kimberly has recently moved to a new town with her family. Though she attends high school like any teen, Kim stands out from her classmates because she has a rare genetic disorder that causes her to age at 4.5 times the normal rate, giving her the appearance and health of a woman in her 70s.
While her peers were going through puberty, she was going through menopause. While they play sports she deals with brittle bones and a bad back. And looming over it all is the knowledge that 16 is the average life expectancy for those with her condition. But dealing with her premature physical decline is actually less taxing than dealing with her aggravating family members, who alternately ignore, embarrass and use her.
Sound depressing enough? It is, to some extent. However, Kimberly Akimbo is actually a comedy, albeit a dark one—and the Pear Avenue Theatre's current production of the play has no shortage of laughs and plenty of sweet moments, too.
The cast consists of only five characters but all the roles in Akimbo are juicy and memorable, and the actors are excellent.
Local-theater veteran Patricia Tyler stars as the titular Kimberly, with Gretta Stimson as her narcissistic, hypochondriac (and pregnant) mother, Pattie; James Kopp as her well-meaning but alcoholic father, Buddy; Kristin Walter as her manipulative, con-artist aunt Debra; and Anthony Stephens as Kim's new friend, fellow teen-geek Jeff. With characters who frequently do and say unlikeable things, there is a risk of losing audience sympathy or interest. Luckily Kimberly Akimbo's family of loveable losers remains worth rooting for, even at their worst.
Playwright David Lindsay-Abaire's script allows key information about the family to unfold in unexpected ways, so to reveal too much would be a disservice to the reader, but suffice it to say the clan is not without skeletons in their collective closet. Kimberly's rare disease actually ends up being just one of the family's issues. Pattie is close to giving birth to her second child, desperately seeking to prove she's a good mother and hoping the new baby will make up for the heartache of her first daughter's plight. She's selfish and paranoid, and while Stimpson's loudmouth pseudo-Jersey-accented portrayal irked at first, she grew on me by show's end. Kopp is perfect as weary-yet-charming Buddy, who loves his family and wants to be a good father but can't quite get his act together. When magnetic, law-scoffing Aunt Debra shows up, she brings trouble and seductive danger along with her, ensnaring Kim in her web of schemes. Walter is a standout as Debra—she's an unrepentant criminal and user, yes, but she also shows Kim the attention often lacking from her parents.
Kim, who is literally "coming of age" faster than most, is not only physically but also emotionally mature beyond her years. But Tyler does a great job of keeping her realistically naive and youthful at heart, too. And though her disease makes her a freak at school, she actually comes across as the least damaged of her family. A bright spot in Kim's bleak life comes with the friendship of winsome Jeff, a friendship forged by interest in her unusual condition, but friendship—with blossoming romance—nonetheless. Anthony Stephens' performance as Jeff was my favorite of all—so natural, guileless and appealing as a nerdy, awkward, yet ultimately valiant young outcast with family troubles of his own. His and Kim's burgeoning relationship seems genuine and lovely.
Deftly directed by Caroline Clark, the small scale of the play is very well suited to the intimate Pear Avenue Theatre space (seating about 40). Scenic design by Norman Beamer is simple but effective, with the stage divided into cozy kitchen and bedroom areas, and props at the front serving nicely to distinguish locales outside of the house (a steering wheel to designate a car; beanbag chairs for the library). And I'm not sure if there is particular meaning imbued in the choice of Weezer and Neutral Milk Hotel as the show's soundtrack, but as a fan of both bands I found it most pleasing, with the angsty/melodic alternative pop echoing Kim's experience fittingly.
Tales of dysfunctional families are nothing new but Kimberly Akimbo is quirky and original—equal parts laugh-out-loud and heartbreaking, and a great choice for the offbeat Pear.
Kimberly Akimbo
Thru Nov. 2
$20-$30