Arts
Dancing Inside a 'Walk-In-Womb'
'Before You Were Born' ponders the place we all have seen but none remember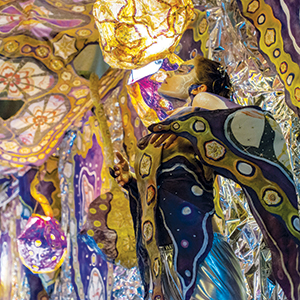 Take a silent hallway veiled in yards of draping fabric—psychedelic swirls of stars and flowers dance beside metallic silver sheets; the warm, mystical ambiance of some illustrated lamps hang overhead. Mixed-media artist Laurie Shapiro's "walk-in womb" at the San Jose Museum of Quilts and Textiles tackles the mysteries of our collective origin story.
The installation—titled "Before You Were Born"—forces us to ponder where we came from before stumbling into this physical realm. "Where did your essence—your spirit—come from?" Shapiro urges in her artist's statement. It's an enticing question, one that can end with the simple answer of "a womb" or stretch on indefinitely into the mystical grounds of metaphysical contemplation.
Reviewing Shapiro's preliminary conceptual sketches of the 30-foot installation, the words "warm, full of love" and "all that we come from" are scribbled next to drawings of sperm-shaped "balls of energy," which would eventually become the glowing sperm lights in the piece. Birth and creation are principal themes, duly manifested in the way each light drops through a "vaginal-shaped hole" in the cloth ceiling.
"I want people to feel connection, and I want that in all of my work," says Shapiro, the current artist in residence at SJMQT. Inspired by her current read, Seth Speaks, a "super strange, New Age book from the '70s about a personality from another dimension" who speaks truths about human life and consciousness, Shapiro set out to create an installation encompassing themes of interconnectedness and human spirituality.
Every component is painted, printed, and stitched together in this cavelike environment whose form seamlessly recalls the notion of connectedness. "I let my mind go with the shapes that I was making."
The ethereal, otherworldly sensation of the space is meant to nurture feelings of comfort, security and unity—a safe house in these dark and uncertain times. It's a practical intent, a necessary intent, with the appearance of dreamlike transcendence.
"Before You Were Born" went up on April 7 and is on display until June 2. During First Friday, the piece will be accompanied by a dance performance by Shapiro's close friend Courtney Hartman from 7pm-9pm. All of Shapiro's original artwork and prints are available for purchase at the SJMQT.
Before You Were Born
Thru Jun 2
7pm, Free
San Jose Museum of Quilts and Textiles