Arts
'Locus of Control' Takes
the Long Way Home
Poet Jason Bayani performs his multimedia, music and spoken word show at Cafe Stritch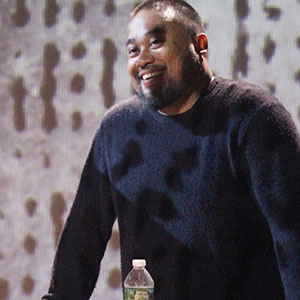 Jason Bayani grew up in Fremont in the '80s. The son of immigrant parents, he was raised in the city's Ardenwood neighborhood in a home surrounded by forest and farmland. Things have changed since he was a boy.
"Where I grew up, there was all this nature, and now it's a trip to see. [All the places] we used to ride our bikes are either a home or a strip mall," he says, recounting how his hometown—California's 10th largest city by area—has been packed to the gills with business parks, shopping centers and tract housing.
Bayani's upcoming solo show, "Locus of Control," captures his discovery of just how much control he has over the external world, and how much it has control over him. Bayani recalls these experiences through music, multimedia and poetry.
"I don't exist outside the context of history," he says. "Everything that has affected me—even the state of my mental health—is related to history. And that's something that can never be overlooked."
An experienced Bay Area poet and spoken-word artist, Bayani has strayed from the three-minute slam format in pursuit of longer features that give him the time and freedom to go deeper. He is known for his ability to capture an audience through an empathetic approach to storytelling. His first book, Amulet, is a collection of poems that approach the Filipino-American experience through his own stories.
In his narrative poem "Kein/Muenchen," he takes on a confessional tone—speaking as lonely outsider in a foreign city, touching on his own personal history with the Bay Area and his past traumas:
"Munich is so guttural and heavy on the tongue. The buildings are an impractical math. I am relearning shape. The city where I love is a grid, a digital timepiece: bending and folding: in and out of space. Here the streets are series of gears; the metal and the motor; all of it turning; the great wheel of time; it is breaking me; I am broken; I came here broken. I can say that now. There is enough time to say this."
Overall, Bayani has found success with the show since it began in San Francisco almost two years ago. What began as a salvaged manuscript of poems has turned into the kind of performative experience Bayani has always hoped for. The show has also inspired a new manuscript, titled Locus, set to be published next year.
"I thought I was sitting on a pile of garbage for so long, and then I realized there was stuff that I could repurpose or reuse," he says. "The show really helped clarify this central theme I was working towards."
Locus of Control
Mar 27, 7:30pm, $10+
Cafe Stritch, San Jose
cafestritch.com