Arts
Review: 'Menopause: The Musical'
In it's current run at the Hammer Theatre Center, 'M:TM' features absurdist pop parodies, accomplished cast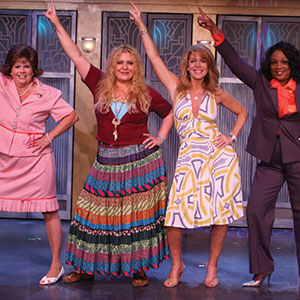 It's criminal how well-served the male menopausal audience is. There is not, nor does there need to be, Male Menopause: The Musical; there is no market for nightshirts reading "Keep Calm and Think About Your Hedge Fund." And such an audience would need no $1 souvenir fans to ward off hot flashes. Men over 50 never ever feel that hot, anyway.
The Jeanie Linders-written musical debuted in Orlando, Florida, in 2001—about the same time the Backstreet Boys were running amok—and it's survived, complete with merch in the form of CDs, nightshirts riffing on hot flashes and lots of chocolate. It's currently in a perpetual Vegas run, but wherever it plays, moms and daughters meet: the former come to celebrate the power of life apres-estrogen, the latter to find out what's in store for them.
Its production design is like a cabaret piece that got very big. It's one set, representing the doors of New York City's Bloomingdale's (the London version stages at the doors of Marks and Spencer). The characters have a chance meeting and tour the store, floor by floor.
First is a no-nonsense businesswoman (Wydetta Carter, an original member of the Chicago M:TM company) who is billed as Professional Woman. The vintage hippie "Earth Mother" (Kittra Coomer) has a platinum peaked haircut and a clashing Indian print outfit.
Next is the eager-to-please Iowa Housewife (South Coast Rep vet Karen Gedissman, also billed as the show's dance captain) in a conservative suit on the gray side of yellow-green. This entertainment has always been successful in tourist towns, so it's canny that one of the characters is an out-of-towner. Fourth among them is the Soap Star, an aging actress from One Life to Lose. She's played by Cherie Price, who has been with various M:TM companies for more than a decade.
Linders' book chronicles the effects of menopause: hot flashes, emotional outbursts, sleeplessness, the consumption of meds, strife with mothers and weight gain. ("I used to be a size 2!" "Yeah, so is my right leg!") As the off-stage toilet flushes suggest—ever a crowd-pleaser, that sound effect—rebellious bladders are also a prob. A barrage of Mad Magazine-style song parodies propel the action: "Chain of Fools" becomes "Change of Life," for instance. The Bee Gees' "Stayin' Alive" mutates into an ode to insomnia, "Staying Awake." ("Whether you're a sister, or whether you're a mother, you're staying awake.") Here, by Price, are two different versions of "I'm Having a Hot Flash" set to Irving Berlin's "We're Having a Heat Wave," first at rhumba and then at Marilyn Monroe-tempo.
It's mutual bonding all around by the time vibrators come out. Before that, Carter's flawless Tina Turner impersonation stopped everything in its tracks. Carter is a lady of size with a grand voice, and there are many times when the show tilts so far in her direction that you don't think the other three can match her. But they all do something impressive. In Gedissman's case, it's a bit of Lucille Ball-worthy pantomime as she tries to squeeze herself into a piece of complicated black lingerie apparently sized for a Barbie doll.
Coomer, who toured with this show in the Pacific Northwest, does the Berkeley-style aging woman in comfortable shoes pretty much perfectly; her character can stop any conversation with the phrase "Back in the '60sÉ" And Price, finishing up, togged in satin-print tiger jammies, does a sharp performance of a challenging song, Bacharach-David's "Don't Make Me Over," sung as a plea for plastic surgery ("Please Make Me Over").
You don't dissect froth as if it were a frog, but M:TM is a little bemusing. It's a tribal musical, heavily franchised, playing from here to Kuala Lumpur. It calls out those who weathered menopause for some honor and applause. It makes donations to women's causes, while at the same time plugging retail therapy at a big-name department store. Still, it's strange to see the international branding of something that's unfun and unavoidable, something that often ends with so many women being declared redundant by the cruelty of the market. It's the lighter side of a seriously painful process. Maybe, if this property is renovated later on for newer songs, it could get slightly angrier—perhaps less Brenda Lee and a little more Patti Smith?
Menopause: The Musical
Thru Jan 21, $54+
Hammer Theatre Center, San Jose
sjsu.edu/hammertheatre