Arts
The Yarn of War
Nathan Vincent's wool-and-foam soldiers subvert gender norms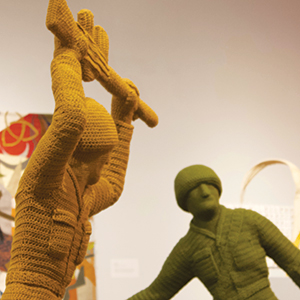 Only two of Nathan Vincent's yarn soldiers are standing on display at the San Jose Museum of Quilts & Textile,s but they alter the mood of the gallery. There's nothing decorous or innocuous about a three-dimensional man, albeit soft-bodied, holding a rifle above his head and aiming it at an enemy. These "child-size" soldiers are taken from a larger series Let's Play War!, in which Vincent created two opposing armies out of yarn and foam. He distinguishes them by knitting one troop in jungle green and a second the color of desert sand. Based on the plastic toy soldiers boys play with in order to mimic adult warfare, he arranges the figures in malevolent poses, cleverly negating the idea that child's play is harmless.
If not pointing rifles and shotguns at each other, the soldiers stretch out on the ground to steady their grips and to better the sight lines for their bazookas. Vincent occasionally affixes a grenade to a combatant's outstretched hand. The weapons stitched on to these aggressive appendages appear to be growth-like extensions of, not separate from, the limbs themselves. The soldiers' expressions are blank and call to mind The Hollow Men from T.S. Eliot's poem: "The eyes are not here/There are no eyes here." They're blindly following their orders to maim and kill.
Vincent says that the idea for the series came to him after completing Boy Toys, a collection of crocheted sculptures—including video game controllers, a wrench, weapons (a slingshot, knives) and explosives (bright red sticks of dynamite). In his artist's statement, he explains that these toys often endorse aggression and "unconsciously instill values and reinforce gender roles." During a filmed interview with the Museum of Arts and Design in New York City, he goes on to explain his methodology. "I make mainly masculine objects or things that people associate with masculinity, and I make them with something that's considered a feminine craft."
An evocative diorama, Let's Play War! makes those gender roles traditionally associated with toy soldiers (male) or knitting needles (female) slippery. "The use of crochet and knitting," Vincent adds, "is a way of subverting our cultural gender norms and experimenting with newer ways of thinking, questioning why our roles, activities and allowable personality traits are so often dictated by our anatomy."
Let's Play War!
Thru Jan 13, $8
San Jose Museum of Quilts & Textiles
sjquiltmuseum.org