Arts
'Natural Selection' at
Empire Seven Studios
New exhibit, 'Natural Selection,' contemplates intersection of civilization and nature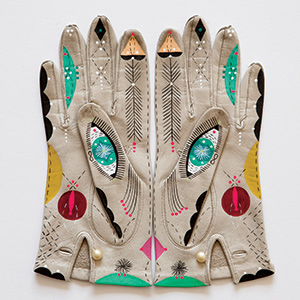 Empire Seven Studios' new show, Natural Selection, is an exploration of how human beings and animals live together and the extent of the power humans enjoy over the natural world—in particular, the world of animals. Through a combination of sculpture, unconventional media, like antique gloves, and contrasting styles, Empire Seven Studios has managed to unify the diverse talents of each featured artist into a single complementary theme.
The show features artists Candie Bolton, Caitlin Hackett, Crystal Morey, Bunnie Reiss, and Roan Victor—all of whom are current or former residents of the Bay Area. Many have had their work previously featured at Empire Seven Studios. Although not a deliberate choice, Natural Selection features an all-female bill.
Candie Bolton is a Sacramento-based artist and designer who creates both drawings and small sculptures with a strong Japanese touch. Incorporating elements of both traditional and contemporary Japanese art and folklore, Bolton's work is a mixture of crisp, cool anthropomorphic portraits and intricate, expressive figurines painted with gouache and the specialty toy paint, Monster Kolor.
"I always loved fairy tales and mythical beasts as a child," says Caitlin Hackett, an Oakland-based artist. Hackett's work is a highly detailed and occasionally unsettling exploration of the relationship between biology and mythology. Her pieces are vibrant studies of animals, balanced with a touch of the mystical: rabbits with three eyes, deer with antlers that transform into tree branches, and other surreal, grotesquely beautiful portraits, which subvert ideas of animal taxonomy.
"My relationship with animals and nature, and my fascination with biology, has inspired my art since I first put pencil to paper," Hackett says.
Oakland-based sculptor and artist, Crystal Morey, has a keen eye for the marginalization and mistreatment of animals. Creating anthropomorphic sculptures that exude both powerful symbolism and a certain etherealness, Morey reflects the impact of humans on their environment through her minimal, but striking clay figures.
Although her work ranges from large-scale outdoor murals to small pen-and-ink sketches, for the Natural Selection show, artist and muralist Bunnie Reiss chose women's antique gloves as her medium. A fan of incorporating unusual objects in her art, Reiss says the gloves "are reminiscent of somewhere between a human and an animal."
Symbolically, Reiss says the gloves remind the viewer of the relationship between hands and the artist, but also serve to subvert the association between white gloves and etiquette. "I felt like it would be interesting to have a dialogue between the strange animal and human world and specifically artists themselves."
Inspired by nature, as well as German and Eastern European folk art, Reiss' work is a medley of colorful and intricate designs. "I really consider myself an urban folk artist," Reiss says regarding her style, which is a panoply of natural imagery, along with Native American and Eastern European art. While Reiss recently relocated to LA, she has a long history with the Bay Area.
Roan Victor's charcoal and watercolor pieces are perplexing and ethereal, always featuring a touch of absurdity. Her piece "Fly" is a stark, yet oddly whimsical portrait of a bird-headed figure looking over the edge of a building. The imagery of Victor's pieces are cryptic but compelling, something Victor readily admits.
"I have secrets about my work that I want people to figure out on their own," she says. Besides her career as an artist and her history with Empire Seven, Roan Victor co-owns another popular San Jose Gallery (and art store), The Arsenal.
An often overlooked aspect of any art show is the thought and organization that goes into its creation, a process Empire Seven has seemingly mastered.
"They have a really probing, critical eye when it comes to art and I like who they choose to show," Reiss of Empire Sevens Studios' curation. "I look for galleries, you know, that like my art. I'm not trying for a square peg in a round hole situation."
Empire Seven Studios avoids such mistakes. Compiling work from very different artists into a unifying theme is tricky and requires a mixture of dedication and vision. With Natural Selection, Empire Seven Studios has perfected its model of exhibition into an exquisite, thought-provoking show.
The opening reception for 'Natural Selection' is Jun. 12, from 7pm-10pm at Empire Seven.
Natural Selection
Jun 12-Jul 3, Free