Arts
Byrne On The Brain
Talking Heads frontman gets inside your head at Pace Gallery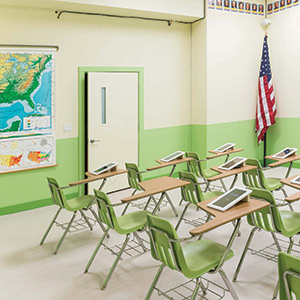 Despite the freshly painted walls, the building looked like it was suffering from suburban abandonment, the parking lot emptied of travelers. But the big white letters along the tar black roofline spelled out exactly what a visitor was looking for—The Institute Presents: NEUROSOCIETY.
Just below this signage, a large black circle contained a logo: the reversed out profile of a head, the neck stopping and starting again only to end as a dot. The back of the skull remained undrawn and wide open, the white outline suggesting a question mark—a shadow self also asking a question. This was merely the introduction, though, a subtle nudge to the psyche, suggesting that upon stepping through the front door one would be participating in a series of inquiries about the self.
NEUROSOCIETY is the brainchild of the musician David Byrne (Talking Heads) and Mala Gaonkar, a Harvard graduate whose diversified career portfolio includes work at nonprofits and at an investment firm.
Inside the lobby, there's a handout that's meant to explain the origin of their partnership and the experience at hand: An Amateur's Guide to Neurosociety. Byrne and Gaonkar traveled the world—to places like Copenhagen, Barcelona, New York—in search of scientific laboratories conducting research on topics that interested them, such as cognitive psychology, sociology and, of course, neuroscience. They participated in experiments that enlightened them about perception, specifically the way the mind tells and invents stories. NEUROSOCIETY is their enthusiastic effort to share a similar set of experiments with the general public.
However, there's a singular difference between the experiences of Byrne and Gaonkar and that of their ticket buyers in Menlo Park. They write, "We began to see the work of both science and our brains as a kind of theater." Despite us visitors being told that Byrne and Gaonkar's partner labs will be collecting and analyzing our anonymous data from the experiments they've devised, NEUROSOCIETY is essentially an immersive theatrical experience. The feeling evoked is similar to that of the now defunct Disneyland ride Adventure Thru Inner Space. It's science-lite: informative in a remedial way, brightly colored yet vaguely threatening—like an unexamined, lingering dream.
The "ride," such as it is, begins with a group of 10 people gathered together. Everyone stands tentatively, milling about, checking in with the receptionists who, in their mint green lab coats, match each other and the walls.
Once the second hand makes its lazy way past the hour of our scheduled appointment, someone lifts the dark curtain in the corner and steps out from backstage to greet us. Our hostess and performer is pleased to see our slightly puzzled, but game, faces. We don paper booties, placing them around the soles of our dirty shoes, and enter the first room. The stage is brightly lit like we're on the set of a reality TV show. Are our movements and facial expressions being recorded? There must be cameras somewhere, but that's just a paranoid thought in this shrine to the blinking flat screens of streaming and new media.
Our cheerful thought-leader asks us a series of questions that require us to publicly contend with our moral compasses. Except we don't truly interact or engage with the other people in the room. We don't discuss our answers or reveal our tendencies or prejudices. We are as anonymous as the moon, and just as removed. What might have felt risky—disagreeing with a stranger in a controlled environment—is simply left for private conjecture.
In each successive experiment, we are led about from place to place, adjusting our bodies to fill in the unfamiliar spaces, adjusting our eyes to different shades of light and darkness. But we are siloed by the way the experiments are designed. The Amateur's Guide asks one question that we're meant to answer by the end, "What kind of mini-society will you build or imagine in an hour?" The atmosphere at The Institute is safe, but there's a lingering sense of a missed opportunity for us to build that mini-society. Nothing's at stake for the participants because the data is not accessible for us to debate or deplore. Our responses disappear into a computer only to return as passive statistics on graphs. Our restlessness and volatility have to vanish when the final switch turns off and we're ushered politely out of those mint green doors.
NEUROSOCIETY
Thru Mar 31, $45
Pace Art + Technology, Menlo Park