Arts
Exhibit: 'Digital Spaces and Future Parks'
Legendary New York- and London-based Pace Gallery has made its way to
Menlo Park, and it hasn't arrived quietly.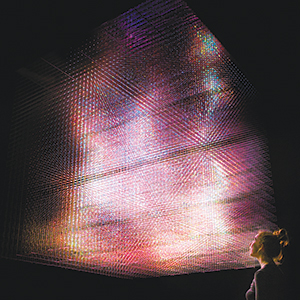 Legendary New York- and London-based Pace Gallery has made its way to Menlo Park, and it hasn't arrived quietly.
Located in a former TESLA dealership, the exhibit, titled "Living Digital Space and Future Parks" is a pop-up gallery—an appropriate term in this case, considering the impressive computer-visual art installation was installed and outfitted in just eight weeks.
"It was crazy," says Elizabeth Sullivan, the project's director. The set-up began over the holidays and was further complicated by the city's permitting process—all "fun stuff" for the 20-year art gallery veteran.
Pace has been representing TeamLab for two years—starting with a similar installation at its flagship gallery in New York. According to Sullivan, while the Menlo Park exhibition is only a temporary pop-up gallery, it's large enough that it could stand on its own in a permanent space.
"This is more of a museum type show for its size," Sullivan says. "Pace has never done anything this big." Along with the Menlo Park Space, Pace has opened a smaller, more conventional gallery space in downtown Palo Alto.
Featuring 20 installations spread throughout the 20,000-square-foot space, the exhibit is truly a sight to behold—as each mesmerizing piece interprets the natural world through high-tech multimedia.
It's all the work of TeamLab, a Tokyo-based collective known for its synthesis of technology and art. With more than 400 members, the group works in a truly collaborative atmosphere. "No one takes single ownership of any of the works," Sullivan says.
"When people ask for headshots of the artists, they're confused when I tell them there are no headshots," the gallery's publicist, Florie Hutchinson explains. "They are a singular entity."
Indeed, there are no names attributed to any of the installations at Pace Gallery other than "TeamLab," which provided everything for the exhibition—from soundscapes to the spatial organization of the show. This dedication to craft above individual recognition is only complemented by the smooth infusion of the show's resolutely Japanese aesthetic.
Upon entry to the gallery one is confronted by the Light Sculpture of Flames—a suspended 8-foot square of more than 50,000 LED light—which reacts to viewers' movements, changing in sound and concentration of color depending upon where one stands. From there the viewer is led to a series of rooms, each with a different, but self-contained, organic atmosphere. One room is nothing but colorful flowers, leaves and butterflies from floor to ceiling, gliding and fluttering around and responding to touch.
This attention to detail goes beyond the fastidious to the truly obsessive. From randomized loops of huge and complicated computer visuals to biologically accurate depictions of a breathing, moving, natural world.
"The rock in the waterfall is based on a 3-D model, which they printed out, then put back into the visualization," Hutchinson says, describing the lengths TeamLab went to in creating a rock for one of the gallery's features. In other words, TeamLab designed a virtual rock, 3D-printed it for thermodynamic testing, and then put it back into the instillation. The result is a 20-foot tall, sparkling blue waterfall—serene and awe-inspiring in its kinetic detail.
Another impressive aspect of this astounding exhibition is that more than half of the visual pieces—many spanning 20-foot tall walls—are all interactive and coded to respond in different ways to different viewers. This is best illustrated in the children's section of the gallery—a separate building where kids and adults alike can draw fish and scan them into a real-time updated aquarium; build virtual cities using interactive blocks; and create entire visual stories by hitting different symbols on a scrolling wall-sized screen.
Each installation in "Digital Space and Future Parks" is a singular visual and emotional experience. Frankly, it's difficult to do the installations justice in words alone. Every one of the 20 works, no matter the size, envelops the viewer in a intimate and strangely organic world.
Although a few of the installations were out of service during a recent visit, it was inconsequential to the visually overwhelming space. And while some of the demonstrations were actually somewhat overwhelming to witness, there is an overall sereneness to "Digital Space and Future Parks."
"Digital Spaces and Future Parks"
Thru Jul 1, 11am-7pm, $7-$20
Pace Gallery, Menlo Park