Arts
All That Glitters...
Cantor exhibit, 'Painting Nature in the American Gilded Age,' recontextualizes older works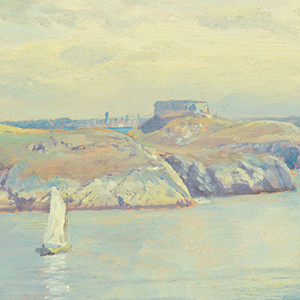 The Gilded Age far outshines nature in the Cantor Arts Center's new show, "Painting Nature in the American Gilded Age." Grandiloquent portraits from the turn of the 20th century line the walls. Opulently attired men and women stare back at their makers and, unknowingly, at us in the future. The curators have drawn a tenuous link between this beau monde and the natural world. It's not an implausible relationship, but you may have to strain your eyes to see it.
In his Portrait of Mrs. Chase (c. 1910), William Merritt Chase (1849-1916) adorns his wife's pale décolletage with jewels. He drapes a sumptuous green skirt over her right knee. It shimmers like the wings of an iridescent butterfly. That brilliant splash of color, however, is the only sign of flora or fauna in the portrait. Edith Wharton scrutinized the opulence on display in this strata of society. Chase admires the wealth and ease his wife embodies.
Chase's contemporary Thomas Eakins (1844-1916) gives us Portrait of Professor William D. Marks (c. 1886), which ought to be subtitled A Study in Brown. The stern-faced professor sits at a table glumly. His mustache is brown, as are his suit, tie, shoes and mood. Eakins doesn't compose a background so much as muddy it with a puddle of brushstrokes. Professor Marks must have presided over many unhappy classrooms to have merited such a stormy rendition.
In contrast, The Crystal (1900) by William McGregor Paxton (1869-1941) is a study in harmony and light. Paxton paints his wife in a lustrous, honeyed lemon dress. Her settee is embroidered with a floral pattern that evokes chinoiserie. Mrs. Paxton gazes inside the crystal ball she holds in the palms of her hands. But the mauve and turquoise flowers stitched into her furniture aren't depictions of nature. Or if they are, then the aspect of nature on display is one that's been commodified and packaged by that era's age of industrial and urban growth.
The oil paintings that depart farther from the confines of polite drawing rooms are ones by the American painter William Trost Richards (1833-1905). He paints a number of shoreline seascapes. Coastal Scene with Fort Dumpling shows a placid Rhode Island harbor. It's the largest work by Richards in the gallery. But there's also a series of his smaller paintings, grouped together under glass, that are just as impressive. Each one is an emotional tempest in miniature. His work most represents the gilded age of nature—one that Professor Marks must have enjoyed watching as it rebelled against mankind with voluminous clouds and roiling, determined waves.
Painting Nature in the American Gilded Age
Thru Aug 25, 2019, Free
Cantor Arts Center, Stanford
museum.stanford.edu