Arts
The Palo Alto Players' Production
of 'Chicago' is Racy, Rowdy Fun
Chicago is a one of the very best musical comedies
ever to hit the Great White Way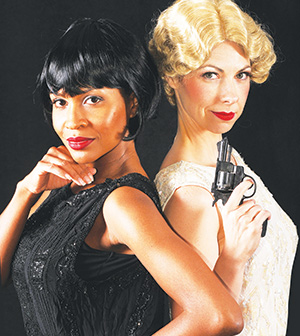 Sex! Murder! Scandal! And all that jazz. Chicago is a one of the very best musical comedies ever to hit the Great White Way, and Palo Alto Players delivers a nearly flawless version of the razzle-dazzle-filled spectacular.
Based on the true stories of several Windy City women who literally got away with murder during the Roaring '20s, Chicago (by John Kander, Fred Ebb and Bob Fosse) debuted on Broadway in 1975. It's a mix of Jazz Age music styles and modern black humor that's held up well. The production remains fresh and funny to this day, and loses none of its luster at the Lucie Stern Theater, where it is currently playing through Sept. 27.
Roxie Hart (Elizabeth Santana) is a cold-hearted, philandering wife, who shoots her lover (Mohammed Ismail, also in the role of emcee) when he tries to walk out on her. After trying and failing to pin the blame on her sweet-but-hapless hubby, Amos (Joey McDaniel), Roxie finds herself in the slammer, ruled over by the corrupt Matron "Mama" Morton (Jennifer Taylor Daniels), amongst a bevy of merry murderesses—mostly not-at-all remorseful about slaying the men who done them wrong.
Also incarcerated is Velma Kelly (Janelle LaSalle), a former vaudeville star that Roxie, a would-be showgirl, has long idolized. The two begrudgingly share a hotshot lawyer—the slicker-than-slime Billy Flynn (Michael Monagle), famous for sweet-talking juries and reporters alike. "I don't mean to toot my own horn," Flynn boasts, "but if Jesus Christ lived in Chicago today, and he had come to me and he had five thousand dollars, let's just say things would have turned out differently."
Roxie is thrilled to find herself a tabloid darling and surprise celebrity. As her trial date approaches, the fame-addicted vamp needs to find new ways to stay in the spotlight. It's a smart, darkly funny skewering of the American media and its fascination with celebrity culture. And thanks to its shrewd, zingy script and swinging soundtrack, it's also a fan favorite.
Most famous is the opening number, "All That Jazz," sung by Velma. Indeed, it is a great tune. However, the show is chock-full of gems—all similarly sexy, sassy and exhilarating. To name just a few: Daniels brings the house down with her ode to reciprocity, "When You're Good to Mama" (sample line: "If you want my gravy, pepper my ragu. Spice it up for Mama, she'll get hot for you"); McDaniel wins hearts and "awws" in his tragic clown number, "Mr. Cellophane"; "Cell Block Tango" is dazzling; and "We Both Reached for the Gun" is a brilliant lampoon of a skillfully manipulated press conference.
In their starring roles in this production, LaSalle and Santana (who works as Palo Alto Players' development director by day) do not disappoint, and the ensemble players are equally strong in their many supporting roles, from inmates to journalists. It's very difficult to live up to Bob Fosse's legendary choreography, and I fully expected the dancing to be PA Players' weakest link, but I'll admit to being impressed with how well the cast could move. Costume design by Jeff Hamby is a pleasing mix of flapper gowns, jailbird uniforms and retro underwear. Also, the production even offers a much-more-fun-than usual version of the "turn off your cellphones, unwrap your candy" spiel before the show begins.
Another highlight was the on-stage, dolled-up presence of the orchestra (really, a jazz band), led by pianist Katie Coleman. It's always fun to watch the musicians at work and it's appropriate here, given the show's overarching crime-as-show-business metaphor.
There were a few opening-night issues with microphone volumes being inconsistent but I really have nothing much to complain about. The racy humor and dark subject matter may not be everyone's cup of tea and this production is definitely in the "for mature audiences" category, but it's been a huge hit (one of the longest-running in Broadway history, as well as an Oscar-winning film) for a reason. It's been awhile since I've seen a show greeted with such overwhelming enthusiasm by a crowd, and in this case deservedly so. Chicago is to die for.
Chicago
Thru Sep 27, $32-$46