Arts
Piranesi's Paestum: Master
Drawings Uncovered
Giovanni Piranesi created highly precise illustrations
of Roman ruins long before computers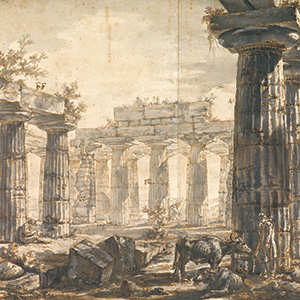 The celebrated 18th-century engraver and illustrator, Giovanni Battista Piranesi, anticipated the tourism industry, urban decay photography, and even image-based 3D modeling for archaeology sites.
While Piranesi (1720-1778) was most commonly known for his depictions of imaginary prisons (Carceri d'invenzione), a special new exhibit at the Cantor Arts Center focuses on another project. "Piranesi's Paestum: Master Drawings Uncovered" includes 15 exquisitely rendered drawings made in 1777 of three ancient Greek temples at the ruins of Paestum, Italy. And the drawings come to us with quite a story behind them.
The ancient city of Paestum was located on the Gulf of Salerno, in a malaria-tainted swamp 60 miles south of Naples. After the remains of the former Greek colony were rediscovered in the mid-18th century, Piranesi became interested in the site because of three Doric-style temples that seemed miraculously preserved. When visiting the scene, he spent much time drawing the ruins in striking detail, from several different viewpoints, implementing many techniques of perspective not normally utilized at the time. He produced drawings from inside and outside the structures and with a 3D specificity unique among his peers.
Normally Piranesi worked by drawing the majority of his compositions directly onto the copper plate at the engraving stage of the process—a tremendous feat in itself—but for the Paestum site, he supplied these detailed preparatory sketches because he was nearing the end of his life and probably knew that the project would not be completed until after his death. He instructed his son Francesco to finish project.
When Piranesi died in November 1778, he left behind drawings as well as the unfinished plates for a book, Differentes vues . . . de Pesto, that Francesco would complete and publish later that year. Acquired in 1817 by the English architect Sir John Soane, these original Piranesi preparatory drawings have never been seen outside of that collection until this touring exhibition. The drawings are unique not only because they are Piranesi's most extensive body of work devoted to a single topographical site, but also because very few of his preparatory drawings for prints survive at all.
Piranesi originally set out to be be an architect; he was trained as one by his relatives, and called himself an architect for all of his life. But he also studied with an engraver and became very adept at representational etchings and engravings of Roman antiquities. Even before Piranesi journeyed to the ruins at Paestum, he was selling his own prints to Europeans traveling in Italy.
"He realized that while he makes these very beautiful prints, that are great works of art, there's also a very good market for these prints," said Wim de Wit, an adjunct curator for architecture and design at the Cantor Center. "And many people from France, England and Germany would go to Italy and look at the buildings of the antiquities, and they wanted to have souvenirs. So his prints were very early and beautiful elements of the tourism industry."
At the ruins of Paestum, however, Piranesi honed his representational craft even more. The 15 drawings on display at the Cantor Center convey multiple vanishing points, odd choices of perspective and deliberate attempts to convey the three-dimensional sensory experience of the landscape. And in some cases, Piranesi excludes certain columns altogether, leaving them out of the drawing in order to reveal very different perspectives from inside the ruins.
In the Cantor's presentation, each individual drawing is accompanied by a 2D floor plan of the temple, complete with sightlines depicting exactly where Piranesi was looking when he drew the image.
"If you just look at the drawings without trying to figure out where he's standing, you don't even realize that he goes deeper and deeper into the building," says de Wit. "That's what's so interesting about it."
The results anticipate the modern-day discipline of image-based 3D modeling for archaeological sites. Piranesi didn't have a robotic arm attached to a camera that extended out into the nooks and crannies of the building. Instead, he depicted the experience himself. The viewer takes away a perspective much deeper and more intricate than anything else from Piranesi's era.
Piranesi's Paestum: Master Drawings Uncovered
Thru Jan 4, 11am-5pm, Free