Arts
Chris Eckert at San Jose ICA
'Privacy Not Included' ponders human imperfection with mechanical precision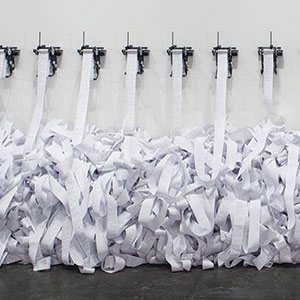 "Chris Eckert Privacy Not Included" at the San Jose Institute of Contemporary Art affects you aurally before you focus on the visuals. There's a white noise in the gallery that you immediately try to pinpoint. Coils of paper rustle on the ground beneath whirring gears. Somewhere else metals are scraping against other metals. The first sounds are emanating from Eckert's "Babel"—20 writing machines that are a cross between a stock ticker and a miniature typewriter.
On each one, an automated black ballpoint pen is scrawling something across a steady stream of paper, which drops to the floor and piles up beneath.
In a phone interview about a half hour before the show opens, Eckert describes what the machines are doing, "They're all exactly the same, except that each one's unique in that it writes in a different language and in a different handwriting. In a strange way they're portraits. It's not just handwriting. It's handwriting of people that I know." He laughs when asked if software exists that can capture people's handwriting.
"Now there is," he says. Eckert worked with programmers John Green and Martin Fox to realize this aspect of the project.
"I came up with the idea that I wanted a machine to be able to write in a person's handwriting. Martin actually developed a piece of software that would let us sample that in," Eckert explains. "I have a set of questions that I ask someone to copy. We scan in that image and then trace over each one of the characters and look at how characters mate with each other. You correct and finesse it so it looks like proper handwriting." And it does. One strip of paper read legibly, "India is not a barbaric nation. India is not a country, but a continent on its own. India is not the place for non playing captains."
The content of "Babel"—culled online from tens of thousands of different sentences from different countries—is framed by a question formed in the negative: "India is not..." The genesis of the piece came to the former engineer, now artist-engineer, when he was installing "Auto Ink," a tattoo machine, at a French gallery.
"I was talking to the curator," Eckert recalls. "We went to lunch and were talking politics. She said, 'Sarkozy is our George Bush.'" Their conversation stayed with him. He thought, "Everybody is watching the same play, but there are different actors. What does it mean to be an American? Or what does it mean to be French?" He started searching the internet with the question, "What is America?"
Stating the query that way, he only received generic platitudes like "America is the greatest country on earth." But if he typed in "America is not," he started to get more interesting results. The writing machines of "Babel" spell out different sentences and then pause, the way that people do when they're writing by hand. Eckert has approximated human behavior mechanically. "It's not that they're discovering them [the sentences] dynamically, but it conveys that idea," he says.
Meanwhile, "Blink" hangs on the wall opposite "Babel." Several round polychromed metal discs hold the replica of a human eyeball at their center. These too are based on the eyes of people he knows. Each one has an upper and a lower eyelid that clicks open and then closes, again and again. Only the bare white walls and the bright overhead lighting prevent the work from feeling entirely ominous. You may not be able to fully apprehend it when you make your approach but those eyes are staring right back at you. They follow your movements from left to right. If it sounds creepy, Eckert agrees.
"It's meant to be uncomfortable," he says. "Today's going to be an interesting experience for me, because I've worked on this piece for well over a year, and I've never actually seen it installed to see how people will interact with it, how that will play out."
Without spoiling the experience, it will play out with an unexpected result. One that will enact the true meaning of the show's subtitle "Privacy Not Included."
Chris Eckert: Privacy Not Included
Thru Jun 3
San Jose Institute of Contemporary Art
sjica.org