Arts
'Punk Rock Blitzkrieg'
Marky Ramone details wild and crazy life in one of the world's
most influential punk rock bands.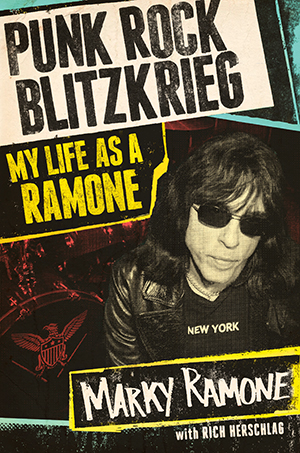 All four of the original Grand Council of Punk Rock Elders, New York City Chapter, A.D. 1974—a.k.a., the Ramones—have shuffled off this mortal coil and moved on to that Rock & Roll High School in the sky. But while Johnny, Joey, Dee Dee and Tommy are no longer with us, the band's second and longest-continually-operating drummer, Marky Ramone, still walks this earth, a sober man for more than 30 years now. Marky first attacked the skins for the Ramones from 1978 to 1983 and then again from 1988 until the band finally called it quits in 1996. During his combined 15 years playing for the band who arguably invented punk, Marky did over 1,700 shows, dropping out for five years in order to get sober after he drove a car through a window while blacked out. His new memoir, Punk Rock Blitzkrieg, reveals just how dysfunctional the Ramones family really was. Other books and even a film have touched on it, but in his book Marky paints vividly unbecoming portraits of the other three characters in the band. In several passages, Joey's pathological OCD issues, interrelated to his unbearable hygiene problems, appear right alongside Johnny slapping around his alcoholic girlfriend in back rooms across the country. Johnny is identified as a rabidly conservative, as well as a belligerent, uncultured cheapskate—constantly eating out of sardine cans on the road to save a few bucks, while complaining about the lack of McDonald's when the band first hit Europe.
But there is love in Marky's words. You can tell. Right alongside his New York accent that drips off the pages, one sees a drummer who managed to get sober and return to the band, to look past everyone's faults, which he does near the end of the book, in poignant moments of reflection. Some of the best passages reveal just how much Dee Dee really was the creative genius behind the band. According to Marky, Dee Dee wrote most of the songs on guitar and then taught Johnny how to play them. As a result, the others were forced to deal with Dee Dee's irrepressible, erratic, drugged-out behavior, as they'd have no albums otherwise.
Fortunately or unfortunately, the Ramones seemed to realize all along that the genre, attitude and warped self-deprecating lyrics they practically invented were now beginning to re-emerge in various flavors over the next few generations, which only reinforced their own sense of mainstream neglect. Marky refers to Nirvana as "our fourth cousin once removed," and in terms of Green Day, he says "Basket Case" was the new "Shock Treatment," and "Longview" was the new "Sedated."
In the end, the Ramones shock-treated and influenced everyone. Stephen King, Peter Kriss, Anthony Bourdain and Tommy Hilfiger all blurbed the back of the book. No other punk band can make that claim.
Saturday, January 24, 2015; 8:00 PM
Jewish Community Center of San Francisco (3200 California Street, San Francisco, CA 94118)
*Marky Ramone in conversation with Aidin Vaziri, San Francisco Chronicle pop music critic. To purchase tickets. Books available for sale by Books, Inc.