Arts
Local Gaming Upstarts: Supergiant
SJ indie video game developer scores with artful RPG, 'Pyre'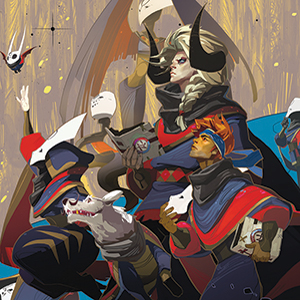 In September 2009, Amir Rao found himself packing up his desk at Electronic Arts. He was leaving his prized position as a game designer at one of America's biggest video game developers to move back into the house where he grew up—but he wasn't bummed about it.
Rao hadn't been sacked. Rather, he had made the weighty decision to return to the suburbs of South San Jose to create something of his own. With the help of his EA colleague Gavin Simon, he would set up camp in his father's house and get to work building a game called Bastion.
"Me and Gavin Simon wanted to start Supergiant, and my dad said he would let us use my childhood home to start the company," Rao says, referring to Almaden Valley. They put everything in the living room and lived there for 20 months.
"We weren't sure what we would have to do to become a real company and not just two guys in a house," Rao says. "At the time, it was wonderfully pure in that way because it was only about the game for us."
Rao understood that good design alone wouldn't be enough to bring the final project together. So it makes sense that he tapped someone he knew he could trust for Bastion's soundtrack. Composer and sound designer Darren Korb met Rao when the two were in second grade at Almaden Country Day School.
"Bastion was an all-in situation," Korb says of the team's first effort. "The game was self-funded, and we had exactly enough money to release it when we did. We knew if we didn't make enough money from this first game to make another one, this was gonna be it."
According to Rao, Korb's brand of self-styled acoustic frontier trip-hop was one of the first facets of the game that gave it an identity early in development.
Korb's menagerie of harps, harmonicas, ouds and electric, acoustic and resophonic guitars is ever-present and lends Bastion's post-apocalyptic world a sprawling quality that recalls Cormac McCarthy's vision of the American West.
Of course, Bastion is not your typical Western. We're reminded of this at every turn, as Korb liberally dispenses a colorful palette of synthesizers and crunchy programmed percussion amidst his bluesy guitar work.
Eight years and three games later, Korb's music is still one of the driving forces that help make every new Supergiant game unique.
In each of Korb's soundtracks, many of the songs split the difference between programmed and organic instruments. Vocal tracks are few and far between, but each instance finds Korb and Bay Area native Ashley Barrett singing from the perspective of one of the games' characters.
Perhaps the most powerful example of this can be found in "Bound Together," a vocal track from their summer 2017 release, Pyre.
The song is delivered by a traveling minstrel whose ballads about the game's characters and world punctuate the story. The song acts as a record of the player's journey, as Korb sings alternate versions of each line to account for the different choices the player can make.
Pyre is about a group of exiles who wander a desolate place called The Downside. The story is told in a visual novel format, complete with talking character portraits and Oregon Trail-esque decision making.
As the game progresses, the exiles engage in basketball-like religious ceremonies, simply called "Rites," which are the only way for them to win back their freedom and return home.
The story itself deals with themes of belonging, self-worth and what it means to be free, while also serving as a poignant commentary on our culture's infatuation with sports.
Like the rest of Supergiant's work, Pyre also respects the player's time. The game boasts a colorful cast of characters whose problems and peccadilloes alone are enough to propel them through Pyre's dozen-or-so hours of story.
Throughout their journey, players are must experiment with various styles of play as the game forces them to field vastly different characters, as more frequently used exiles are retired.
Pyre
$20
Steam & Playstation 4