Arts
Raimonds Staprans' Artistic Restraint
New exhibit at the San Jose Museum of Art demonstrates the power of holding back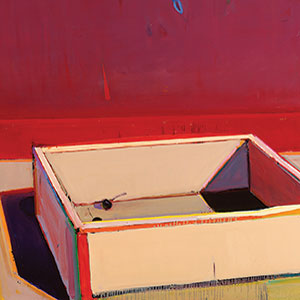 Raimonds Staprans' living room window overlooks the growing cluster of skyscrapers in downtown San Francisco. From this vantage, the artist can also see pedestrians ambling about the city streets and cars driving east across the Bay Bridge. He's lived in the house since the 1960s but the busyness of urban life isn't his primary subject. "Paintings by Raimonds Staprans," now at the San Jose Museum of Art (SJMA), is a career retrospective spanning several decades of his work.
The exhibit, which originated in Sacramento last year at the Crocker Art Museum, serves as a welcome introduction for a viewing public who may be more familiar with his contemporaries—Richard Diebenkorn, Wayne Thiebaud, Gregory Kondos—than the Latvian-born painter. Like them, Staprans has made his reputation by distilling California light into lush, or spare, oil paintings. On his canvases, he pares down urban, suburban and rural spaces until he achieves a stillness. He excludes what he feels is inessential.
Depending on the viewer's mood, you can find the deep blues of the waterfront scenes soothing, or the florid red skies blazing with menace. Or vice versa. One notable, recurring motif, regardless of the emotional content, is the painter's tight horizon lines that cut off or exclude the sun, the moon, stars and clouds. Sitting at home in front of one of his canvases dominated by a curving rectangle of verdant green, Staprans explained his approach to painting these abbreviated skylines. "I love to work by not putting things in, but taking out," he says. "I look at the painting and ask, 'What can I take out?' I make it simpler and simpler. Do I really need that cloud there? And if I don't need it, I take it out."
Staprans describes his paintings as "abstractions." They aren't literal renderings of the sky and the sea, streets and buildings, paint cans or oranges. On a first tour of the SJMA galleries, you can make out solid geometric patterns that appear to be as well-planned as architectural blueprints. But apart from masking tape, he doesn't sketch directly onto the canvas. On second and third tours, gradations of color blend into each other and the gridlines begin to soften and blur together. "You start out with something. You are not sure whether it's going to be a landscape or a still life," he says, reflecting on his process. "Maybe it will be a human figure or a flower pot with flowers. Then you go on from there."
The 90-year-old artist just starts painting.
"I don't know what will become of it," he says. "How it develops: that's where I get my biggest satisfaction. At this late date, why I keep on painting and why I like it, I discover something new, how things work together, even today. Personally, that's my only reward: discovering these new relationships. Usually it's luck. You don't plan it and then you see."
Later, when we walk down two flights of stairs to his basement studio, he shows me a work in progress that's as yet untitled.
He calls it a "white" painting, even though other colors populate the work, including a small patch of peacock blue. Staprans tells me it used to be a tree, but he painted over it. "I hate busy paintings," he says. "That's my personal feeling. Nature outside, as it is, is too busy."
His innate talent for choosing colors that please the eye is checked by a rigorous awareness of "a decorative streak within" him. "I have to be careful with color because it can become a decorative item," Staprans says. "When you put in nice blues and nice reds, you have to ask yourself, 'Isn't that just a decoration?' The color itself should be interesting. And that is really what I'm fighting about."
His studio, like the rest of his house, is filled with paintings and books. At the end of the day, Staprans reads poems in his native Latvian. But the way he described his love of poetry—"Every word has an emotional charge in it"—drew immediate parallels to the way a museumgoer could "read" his paintings. He believes that "when you're upset and you want to take a tranquilizer or something, you can pick up a poem. Then you read it and reread it, see how you become open to it, and what the poet has done with language. All those beautiful connections."
As our conversation ends, the sky at dusk has faded to violet. We remark on the beauty of the dying California light.
Paintings by Raimonds Staprans
Thru May 20
San Jose Museum of Art
sjmusart.org