Arts
Review: 'The Abduction from the Seraglio'
Opera San Jose opens its 35th season with one of Mozart's middle works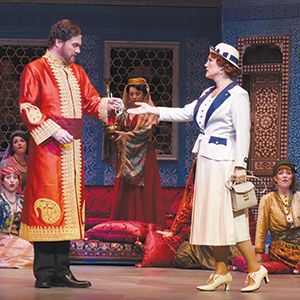 Opera San Jose opened its 35th season over the weekend with a funny and boisterous tale of one man's attempt to save the love of his life from the grips of a Turkish pasha.
Composed by Mozart during his fruitful middle period, The Abduction from the Seraglio was originally borne out of Austrian Emperor Joseph II's pet project, the Nationalsingspiel—an organization created with the express purpose of showcasing Austrian operatics. In fact, The Abduction's libretto was written by Gottlieb Stephanie, the inspector of the Nationalsingspiel.
In addition to opening OSJ's new season, it also marks two other firsts. It is the first in the modern operatic repertoire and the first instance of an opera composed on a freelance basis, as Mozart was contracted to write the piece for Joseph II, the Holy Roman Emperor from 1764 to 1790. It was a hit upon its release in July 1782, and the opera's success ultimately raised Mozart's reputation as a composer.
Opera San Jose's rendition opens on the gates of an Ottoman palace. A man named Belmonte appears, under the auspices of visiting as a tourist. In reality, he's there to rescue—with the help of his servant Pedrillo—his betrothed love Constanze from Pasha Selim's seraglio (an Italian term describing a harem for wives and concubines).
Their plot comes under the immediate suspicion of the pasha's moody servant, Osmin, who is nonetheless tricked or distracted by the rescuers at nearly every turn. What follows is a comical and romantic romp, emblematic of many of the period's operas; man and woman are in love, but some evil authoritative force is also in love with the woman, and a wild turn of events eventually puts the man and woman back in each other's arms.
The show is vibrant from the jump, with the set pieces rendered like an ornate Turkish palace, complete with tall domes and turrets towering above the stage and drawing the eye in. This is extended in the second act when the set is transformed into a magnificent topiary garden with leaves covering every square inch. The setting and ambiance is further reinforced by dynamic mood lighting, casting the stage in soft, early-evening oranges and purples or high-noon desert white light depending on the scene. This attention to detail extends to the costumes, which are an assorted blast of bright colors, textures, and arabesque patterns that transport the audience to the show's Ottoman time period.
While the opera's inanimate elements surely make an impression, it's the performances that really shine. Belmonte, played by Matthew Grills, expresses himself through adroit physical comedy and a medium tenor voice that is as measured as it is clear. Pedrillo, played by Michael Dailey, matches his master's humorous physicality.
Ashraf Sewailam, who plays pasha's surly bodyguard, Osmin, is a great foil to the protagonist pair and bellows with a strong baritone that fits his austere but royally dispositioned character. Constanze, played by Rebecca Davis, captures the woebegone spirit of her lovesick but imprisoned character—with a soft, but realistic undercurrent of sarcasm and a crystal-clear voice transitioning between highs and lows without feeling choppy.
Costanze's maiden servant Blonde, played by Katrina Galka, fits into her supporting role with surefire alacrity, providing both amusement and excitement in her and her new forced suitor Osmin's endless sparring. The standout role, however, is Pasha Selim, played by Nathan Stark. Approaching the role with just the right mix of arrogant self-importance and delusion born out of unmatched authority, Stark makes Selim the perfect farcical villain, with a strong, expansive voice to match.
The cast works together well, both one-on-one and in ensemble form. They bring slapstick to the already humorous opera, which helps keep the show moving along without it ever getting boring. With romantic comedies, particularly humorous romantic operas, there is a fine line between funny and ludicrous or silly, and at times the characters' interactions feel too heightened, too exaggerated for the given situation.
Nevertheless, Opera San Jose's adaptation is clever, deftly paced and frenetically charged without ever feeling hurried. If you are even the slightest bit partial to romantic musical romps, do yourself a favor and check out the newest production from Opera San Jose.
The Abduction from Seraglio
Thru Sep 30, $55+
California Theatre, San Jose
operasj.org