Arts
Cartoonist Behind 'Yellow Submarine' at KALEID
Ron Campbell illustrated the iconic Beatles film, 'Scooby-Doo' and 'The Flintstones'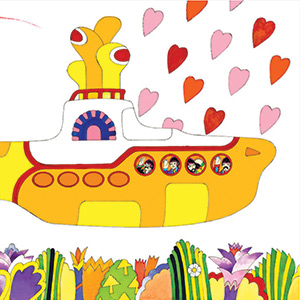 Kaleid Gallery's newest show will be a unique and inimitable trip down an animated memory lane.
With work by legendary animator and artist Ron Campbell, the "Cartoon Pop Art Show" will feature more than fifty original pieces of art inspired by the countless cartoons Campbell had a hand in animating—most notably The Beatles' classic film Yellow Submarine.
Born in 1937 in Seymour, Australia, Campbell's love of animation began at an early age. After going to the Saturday afternoon movies as a kid and being awestruck by the children's animated reel between features, Campbell assumed the process was some kind of magic—until he asked his grandmother.
"I thought there was a real cat and real mouse being projected somehow from the back of the screen," he recalls. "And my grandmother said, 'No, no, Ron, they are actually just drawings.'"
To a 7-year-old Campbell, this was something of an epiphany.
"Drawings? You mean if I do a whole bunch of drawings they can come alive?" he says. "And I sort of became obsessed with that notion for most of my childhood."
Campbell knew, even at that early age, that making drawings come to life was what he wanted to do—going so far as to make his own paper animation contraption akin to a rudimentary zoetrope.
Where others lost interest, Campbell continued drawing into adulthood, working through a degree at Melbourne's Swinburne institute, graduating just in time to meet the sudden demand for animation in Australia's emerging television industry.
After connecting with Australian animators, and eventually Yellow Submarine producer Al Brodax, Campbell's work was known enough that he landed positions with Hanna-Barbera and other noted American production companies. He moved to the States and the rest is history.
Over the course of his 50 year career, Campbell worked on countless shows and features—Beetle Bailey, Scooby Doo, The Jetsons, Sesame Street, Rugrats, Rocket Power, and Ed, Edd, n Eddy—to name a few—and subsequently has had a direct or indirect hand in informing the childhood aesthetic of three generations of viewers.
Regarded in the industry as a master animator and storyboarder, to the public Campbell is best known for his animation work for The Beatles, first with The Cartoon Beatles television program in 1965 then the hugely successful, genre-defining 1968 animated film Yellow Submarine.
His work has resulted in considerable recognition and numerous accolades. Individual episodes of shows Big Blue Marble and The Smurfs earned him and his production company, Ron Campbell Films Inc., a Peabody Award and Emmy for best children's show of the year, respectively.
Partly inspired by the famed animator Chuck Jones' paintings of Looney Tunes and Tom and Jerry, upon retirement Campbell decided to try his hand at recreating his old cartoons.
Working primarily in pen, pencil and watercolor, Campbell's paintings in the "Cartoon Pop Art Show" are vibrant living memories. Not reproductions nor animated cells, Campbell's art is a connection to the past through a living hand. He also paints with the express purpose of recreating how cartoons would look on a screen, giving his work an extra-dimensional sense.
And while Campbell is arguably one of the most famous living animators, he's quick to downplay his role in the grand scheme of things. "When I look back, I feel lucky to have had so many friends who were so talented," he says. "I fear sometimes that I am taking too much credit when there were so many people involved in these cartoons."
Nevertheless, Ron Campbell is one of the last of his generation of animators and cartoon artists and understands the special sense of memory his work generates in the viewer. A special feature of show will be Campbell in person creating his drawings.
"You can't compare my paintings to Botticelli, I'll tell you that," Campbell says with a laugh. "But I think what's important is that I am providing a nostalgic connection to people's childhoods."
Cartoon Pop Art Show
Jan 20-22, 12pm, Free
Kaleid Gallery