Arts
San Jose Museum Takes a Walk
In 'Other Walks, Other Lines,' artists find beauty in the banal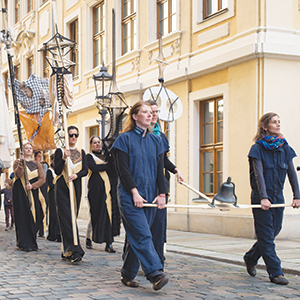 Most would ignore a leaf that's fallen just above the clasp of a car door handle, but not Gabriel Orozco. He finds detritus, things that are overlooked and wasted, and then aims his camera at them. He photographs two dozen glass soda bottles corroded with grime and standing at attention against a gutter wall, or a charred metal oil barrel abandoned on the side of the road with a black rock placed on top, like the sign of a gothic coronation.
The San Jose Museum of Art describes Orozco's photographs—currently on display in the upstairs gallery—as a show within a show. "Other Walks: Gabriel Orozco" is the show within "Other Walks, Other Lines," which resides in the main gallery downstairs. Both exhibits take walking as their subject, an expansive idea that spreads out in many directions.
Having said that, one feature you won't find in "Other Walks" is imagery of people taking leisurely Sunday strolls in the park. Walking as the topic of a museum exhibit sounds extremely mundane, but in practice the SJMA curators have transformed a homely and routine activity into an act of political engagement and consciousness raising.
Orozco, who was born in Mexico, says in an art21.org interview that the camera is a means to facilitate awareness. "I like to walk," he says. "It wakes me up. In just a few blocks of walking, many things can happen."
His photographs are sharp and bright, an ordered distillation of what the eyes can take in on the streets, if they're paying attention.
Downstairs, "Other Walks, Other Lines" departs from Orozco's microclimates to encompass other, broader points of view (a marvelous exception to this rule are the minute mixed media packages by Yuji Agematsu). L.A. artist Ginny Bishton also takes photographs on her daily walks but she makes collages out of them. Rather than singling out an object that captures her attention, Bishton cuts the photographs up into pieces and then reorders them into colored patterns. Maps emerge that look like misshapen cities or counties. Once assembled, the contours define the edges of her explorations on the ground. It's as if she's perched on a nearby skyscraper looking down on all of it from above.
In The Path of Love #3, Omar Mismar, who lives and works in Beirut, makes a red neon map inspired by desire. While visiting San Francisco, Mismar opened up Grindr, an app that connects gay men, often by their proximity to each other. When he found someone he was interested in pursuing, the artist recorded the paths he took to approach their location. The end result looks like a modern constellation made from shining lines rather than shining stars. Mismar does not indicate if the paths end because the men he wanted to meet ignored his requests for contact or opened their doors upon his arrival.
The subject of Ana Teresa Fernández's 30-minute video Ice Queen is also out walking the streets. She's fashioned a pair of high heel shoes out of ice. They'd be a good fit for Tilda Swinton's turn as the White Witch in The Chronicles of Narnia. But for a real woman? Fernández films her own painful steps in them outside in West Oakland. And then we watch them slowly melt away into the grate of street gutter. Her video suggests a different kind of cruising from Mismar's, the ones sex workers make at night. As cars speed by in the distance, the ice disappears leaving her feet bare and vulnerable.
SJMA also commissioned new works of art for the exhibit, including City of Marches by Lordy Rodriguez. His dye-infused aluminum map invents a city that includes marches for equality and justice from around the world. If Google made maps for political activism, they might look like this. He also incorporated two San Jose marches: the Women's March in 2017 and March for Our Lives in 2018. If you'd like to walk those marches yourself, SJMA has printed out cards for museum goers to follow the very same paths themselves.
Other Walks, Other Lines
Thru Mar 10, $10
San Jose Museum of Art
sjmusart.org