Arts
'San Jose Nutcracker' Localizes Holiday Classic
SV Ballet spinoff, the New Ballet School, hits a home run with SJ-centric adaptation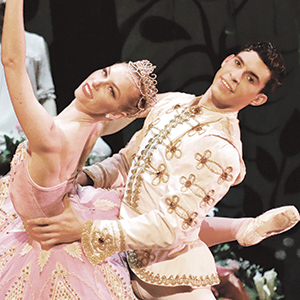 The New Ballet School endeavors to put a South Bay spin on the world's most popular ballet, with delightful results in The San Jose Nutcracker.
In a collaborative effort between History San Jose, Casa De Fruta and other local organizations, Dalia Rawson's fledgling ballet company has produced a rendition of The Nutcracker imbued with a uniquely San Jose flavor that succeeds in fusing the memorable with the familiar.
As a preamble, Elizabeth Hutter, the school's primary coordinator, reads the familiar, reframing the plot with the sights and vibes of historic San Jose (referred to by its pre-Silicon Valley moniker: "The Valley of Heart's Delight"). The curtain rises and a giant projection flashes the year 1905 and a number of colored renderings of downtown—including the famed electric light tower as its centerpiece.
At once it's off into the lively family home of Clara (played by Mesa Burdick), a young and precocious girl who is being visited by her Uncle Nikola (played by Francisco Preciado) with characteristic grandiosity. He gives Clara a wooden nutcracker, which sparks her imagination—sending her into a dream world of bountiful orchards, giant mice, animated snowflakes and prancing sugar plum fairies.
This show is as imaginative as it is captivating. The New Ballet School's loose and lively transformation hits all the traditional Nutcracker marks and still finds room to get playful.
The performers, who range in age from toddler to teacher, work beautifully in lockstep, showcasing the abilities of The New Ballet School's students as well as blurring the lines between instructor and student.
Although all of the performers were on cue and thrived in both solo and corps, the standout performances belong to Mesa Burdick as Clara—for her physical sense of wonder and sheer endurance—and Rachel Winter, the Diamondback Rattlesnake, for her contortionist's flexibility and air of mystical poise.
And all of this occurs in a wonderfully realized world. The aesthetic organization of the show, through setting and lighting, is spare yet bold—colored with a kind of beautiful Yuletide psychedelia. It really breathes a believability and familiarity into the different worlds Clara encounters.
Ultimately, this show's captivating success comes down to the meticulous and inspired vision of The New Ballet School's executive director and choreographer, Dalia Rawson. The routines were intricate, graceful—oftentimes unfurling into each other in remarkably fluid transition. It's amazing, when you consider that these are mostly schoolchildren. Under her direction, the performers were emotive, skilled, and expressive—yet never nervous. Combining a stage confidence with an underlying sense of discipline speaks to Rawson's leadership and stage experience.
The "Valley of Heart's Delight" version of "The Nutcracker" is a fun and highly finessed production, and reflects the high level of skill and professionalism of the New Ballet School, still less than a year old. Expect exciting things from the organization in the future.
The San Jose Nutcracker
Thru Dec. 24, Sold Out
The Hammer Theatre, San Jose