Arts
Santa Clara University
Celebrates Student Publications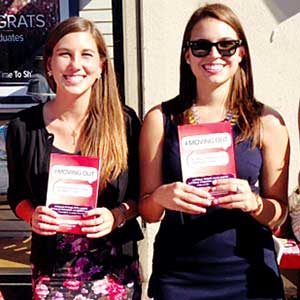 After only 162 years, Santa Clara University has suddenly and unexpectedly become a student literary powerhouse. This month saw the publication of Moving Out, an advice book, done in tweet form, for young people leaving home for college, written by four SCU seniors: Gabrielle Jasinski, Eliza Lamson, Hannah Miller and Liz Wassmann. It is very likely the first commercial book ever written by Santa Clara University undergraduates; it is published by THiNKaha of Cupertino.
"This is such an exciting time for us," Miller said. "If you'd have told us we'd be authors before we graduated when we left home for college four years ago, I don't think any of us would've believed it."
At a book signing oncampus June 6, the four co-eds were joined by a number of students affiliated with the university. Author Matt Chow (with Jon Chu) displayed After College, a guide on what to do the day after graduation. They were joined by the publishers of the new South Bay—based literary 'zine PAPINO, which features works by SCU students, including Stephen Layton, editor of The Santa Clara Review. The 'zine's editor is SCU product Tad Malone.
As the oldest literary magazine west of the Mississippi, The Santa Clara Review is celebrating its own milestone this summer. Formerly known as The Owl, it was founded in 1869 and just published its 100th volume (the discrepancy in dates and numbers is due to little things, like World War I and II, that disrupted publication). Once entirely a showcase for SCU student writers (Jefferson Airplane guitarist Jorma Kaukonen was an editor while an undergraduate), the literary journal now attracts established writers and poets across the country.
"The review is one of the Bay Area's oldest institutions," Layton said, "and we've somehow survived through thick and thin for almost 150 years. Right now, we're stronger than ever. Former poet laureate Robert Hass even came down to celebrate with us at our publication party in May."
This recent burst of literary and nonfiction writingˇa number of the same students regularly write for Metroˇcan largely be credited to the arrival two years ago of Silicon Valley journalist and Santa Clara alum, Michael S. Malone, who teaches two English classes, which he nicknames "writing for money" and "advanced writing for money."
"My hope," says Malone, "is that these kids will continue to network with each other and create a thriving writing community in the South Bay. Getting them published, and then helping them find writing internships, are the first steps. It may be a decade before you start seeing the real impact of these writers on Silicon Valley and South Bay culture. "Silicon Valley and the electronics industry in general have never been known for great writing," he notes. "We're going to try and change that."
Michael Rosa is a contributor to PAPINO.