Arts
SV Ballet's Curtain Call
Second-largest dance company in state hangs up its slippers.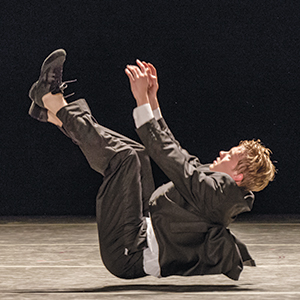 After 30 years of operation, the majority of which was spent in San Jose, the Silicon Valley Ballet has announced it will be shuttering its operation for good.
"It's so sad for us," says Millicent Powers, executive director of the ballet, who last week, along with the organization's board of directors, made the "very, very difficult decision" to hang up their proverbial dancing slippers and tutus.
Powers says that the ballet has been struggling for some time. "It's no secret that the company has had problems over the years." In fact, she explains, when she came on board in 2013—around the same time as SV Ballet's Cuban-born artistic director, Josť Manuel Carreño—she viewed it as her mandate to right the ship.
"Not on my watch," she says, recalling what she would tell herself about the future of the company. However, what she describes as a "perfect storm of events," has conspired to sink the foundering company. Those events include an inability to secure long-term funding from philanthropists and establish a sustaining endowment—a vexing problem for such a high-caliber, well-reviewed arts organization in as wealthy a community as Silicon Valley. "I'm very saddened that it falls to me to tell this story."
Founded by Dennis Nahat in 1986, the company began its three-decade run in Ohio as the San Jose Cleveland Ballet—a co-venture with the then-10-year-old Cleveland Ballet.
It relocated to San Jose in 2000 after the Cleveland Ballet folded. It was renamed Ballet San Jose and in recent years it has gone by the moniker Silicon Valley Ballet—a reflection of its partnership with Symphony Silicon Valley and the fact that the company has striven serve the whole of the South Bay Area, offering classes to local youth in San Jose and Palo Alto in both English and Spanish.
Powers says she is pleased that the educational component of Silicon Valley Ballet will not be disappearing entirely. Rather, Dalia Rawson, managing director of the Silicon Valley Ballet and head of the organization's school, will be starting a brand new school, bringing along many of her former colleagues. Students will be able to continue learning dance at Rawson's new school, which will offer the same curriculum.
Still, Powers says, something is certainly being lost with the closure of SV Ballet, which is second in size in California only to the San Francisco Ballet. "Humans need to get together and be in the same space," she says, noting that SV Ballet was for everyone: from children to seniors, baristas to billionaires. "That ability to have an institution in the community where everybody can participate—that's kind of going away. ... That's what's lost: it's the human organism that makes this magical environment for all of us."