Arts
Silicon Valley Housing Market
Eats Empire Seven
After close to a decade, the indie Japantown art gallery is being forced out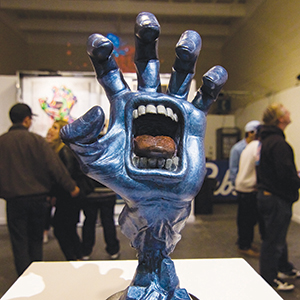 This month, Jim Phillips's iconic "Screaming Hand" art exhibit was immortalized in the Santa Cruz Museum of Art and History. The central image—a disembodied blue hand flying through the air, with a screaming mouth in the palm—has been in circulation for more than 30 years in skate and surfer culture, most notably on skate decks and shirts for Santa Cruz Skateboards.
But before traveling the world and eventually settling at the SCMAH, the exhibit opened at Empire Seven Studios, right here in San Jose's Japantown. "Even the mayor stood in line for, like, 30 minutes to come in and see the show," says gallery director Juan Carlos Araujo.
While the exhibit is regarded as a piece of local history, the studio where it opened is now the most recent casualty of the housing market. In March, right after he had finished building a second gallery inside the leased warehouse, Araujo learned that the whole block had been sold to a developer. He had also just quit his job of 15 years to focus more on growing the studio.
"It's just such a frustrating thing to go through," he says, audibly flustered.
Araujo's studio and gallery space has been on the corner of Empire and 7th Street since 2007. In that time, Araujo and his partner, Jennifer Ahn, have worked with local businesses to beautify the area, painting numerous murals around Japantown and greater San Jose. The canine mural on the side of historic Nichi Bei Bussan was the work of Empire Seven, as were the murals on AEF Grocery on Second Street, Santo Market on Taylor, and the massive work along the railroad tracks just behind the studio near Seventh and Empire streets. Araujo has also worked with local nonprofits to teach art classes at juvenile hall.
"That's my goal," he says: "To make a landmark for arts and culture in San Jose."
The good news is that Araujo plans to hold onto the name Empire Seven, and continue working in service of the arts in San Jose. Still, the experience has cast a shadow.
"Now that I know that I'm losing my building, I definitely think twice about investing all the money I've poured into this warehouse and doing it somewhere else."
This is the real cost of San Jose's recent real estate boom: the people who work the hardest to give the city a definitive aesthetic and artistic identity are often the very ones who are edged out by developers.
"It's changing so fast," Araujo says. "We need our city officials, and everybody who can make a difference, including ourselves. We can't just expect people to do the work for us. In order to make change we need to be present."
Wherever he goes next, Araujo vows he will be present in San Jose.