Arts
Inside The Studio
Silicon Valley Open Studios returns for its 33 year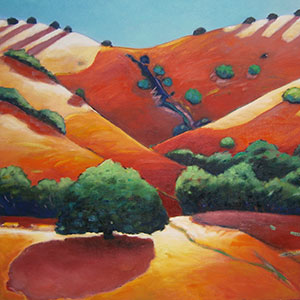 All over Silicon Valley people are making things. Some hunch over work benches and keyboards, affixing chips to circuit boards and hacking away at their latest batch of code. Others are hard at work on more expressive products—bending precious metals, setting stones, shaping wet clay and mixing paints as they eye the blank canvas before them. This region has always been a magnet for creatives, both in the world of technology and the fine arts.
Now in its 33rd year, Silicon Valley Open Studios is once again celebrating these makers by swinging the doors open to the spaces where they practice their craft. During the first three weekends in May, art lovers are invited to visit participating artists in their homes and studios. Some artists will exhibit on their own, while others will share a space; numerous studios are located within the same complex, making for easy movement between featured works.
The festival begins this weekend, running Saturday and Sunday, May 4-5. It picks back up next weekend, May 11-12 and concludes the weekend of May 18-19.
SVOS board member and artist Christine Oliver understands the magnitude of this opportunity, where artists and art junkies meet across The Valley.
"The public is able to get up close and personal with the artists, to really get to know how they do what they do—why they do what they do—and have the opportunity to learn how art is created, first hand," Oliver says.
The second weekend of Open Studios is focused primarily on artists working in Santa Clara County—in the cities of East Palo Alto, Los Altos, Los Altos Hills, Mountain View, Palo Alto, Stanford, Sunnyvale and Santa Clara.
San Jose painter Gary Coleman conjures surreal landscapes using a technicolor palate. Rolling hills, winding rivers and subdivided farm tracts are rendered in rusty red, arctic blue and mediterranean stucco. In his abstracts, he uses similar color schemes in swirls, slashes and fiery explosions.
Many jewelers will also be showing their wares during SVOS. Gabriele Cressman's juxtaposes gentle curves and sharp angles in her cool, metallic pendants. Each piece serves as a window to another world; warm-sea portholes, smooth dew-drop negatives, circles that recall celestial bodies in orbit. These intricate multidimensional features speak to Cressman's exacting attention to detail.
Azita Gandjei fixes instants in time with her heavily affected and ethereal photography. Playing with saturation and exposure, she summons mystical shapes and shadows, freezing them in a gauzy haze. Human and jellyfish inhabit the same frame and figures glow in what could be heavenly or infernal light. These photographs whisper something inaudible yet palpable.
Sculptors are also well represented at this year's SVOS. Jane Peterman shapes clay from a feminist's vantage. Much of her work is named after women artists who have worked to resculpt the definition of equality. Spheres and elliptical designs unite both smooth and rough grains, cool mudslides of earth tone ceramic. Her teapots have titles like "More Women in Charge" and "No." One even features the full text of the long-proposed but as-yet-unratified Equal Rights Amendment.
Silicon Valley Open Studios
Sat-Sun, May 4-19
Valleywide
svos.org