Arts
Silicon Valley Roller Girls search for a home after the closure of SJ Skate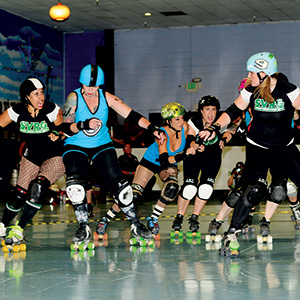 Flashes of green, black and blue whipped around the track as the Silicon Valley Roller Girls B-Team, the Killabytes, took on the Faultline Derby Devilz from Hollister. Skaters slid across the floor, elbow and knee pads scraping on the track as speeding bodies collided in a roller derby bout that would end with a victory for the home team. SVRG's team came out on top, with a score of 249-119.
But now, SVRG, which is headed into its seventh year as an established roller derby league, faces some hard times. The skaters' home rink, San Jose Skate, closed at the end of May after it was rezoned for new development and bought by Imwalle Properties, leaving the women's league without a resident rink.
Without a proper home, the league is now practicing on a rink at Silver Creek Sportsplex near Hellyer and 101. SVRG Vice President Stephanie "Luna Chick" Drews says that the league is grateful to have the space, but renting a rink comes with its own set of problems.
"We're at the mercy of the places we rent, and right now the only availability was on Friday nights from 9 to 11," says Drews. "It's not ideal, but that's just what it is right now."
The women are searching all around the San Jose area for a warehouse that they can afford to lease as a dedicated space. Drews says that with its own rink, SVRG would be able to plan practices on their own schedule, hold extra practices with short notice and host events to support the league.
"A lot of our competition that's ranked above us have their own places and are able to schedule that extra practice time," says Drews.
If SVRG plans to stay in business, moving up in the ranks certainly wouldn't hurt. The league ranks just fine in the Women's Flat Track Derby Association (no. 97—however, more than 200 teams are ranked internationally), but it needs to keep skaters here to pay for its expenses, which could reach more than $3,000 a month with a dedicated space. The league has to compete with a number of derby clubs in the area, particularly the Bay Area Derby Girls (or BAD Girls) who stand at no. 2 in the WFTDA rankings.
Leagues like BAD Girls and Santa Cruz Derby Girls (no. 25) have their own space to schedule, which enables them to schedule practices at more convenient times for the members. Meanwhile, SVRG is trying to convince its diverse membership base to practice on a Friday night.
"We have mothers on our team, and they're not really used to the late time," says Knives "Betta Recog Knives" Garcia. "I've even noticed a few people leave the league because of the late practice."
Losing league members isn't really an option for SVRG. The league is going to need member dues to pay for warehouse space on top of the other expenses the league faces (insurance costs, WFTDA fees, permits, etc.). And warehouse space definitely isn't cheap around here.
According to Drews, most of the warehouse spaces that they've looked at have been in the price range of 90 cents per square-foot, while SVRG has a budget between 50 and 70 cents per square-foot. On top of that, most warehouses don't fit the requirements for a WFTDA track. They need at least 7,000 to 8,000 square feet with unobstructed track space.
"More ideally, we're looking for something closer to 10,000 square-feet," she says. "It's been a challenge though, because we have certain requirements for the track. Some places will have a beam right in the middle of the building or they'll have carpeting set up in a way that we just can't lay down a track."
Drews says that the facilities that fit the league's needs and price range land in the heavy industrial zones of San Jose. They end up competing with tech giants and venture-backed startups for space.
Before the closure of San Jose Skate, SVRG launched a crowdfunding campaign that raised almost $10,000. Although it was far short of the $20,000 goal, it allowed them to buy a portable track that can be moved into a space once one is found. Members also showed up to a fundraiser at First to Market restaurant last month, decked out in the league's black and green colors while wearing quad skates.
"I've been with this league for two years. Prior to that, I was with the Atlanta Roller Girls for three years and prior to that I was with a league in Athens, Georgia," says SVRG member Amanda "Demanda Rumble" Hershberger. "I got a job offer out here, and I wouldn't accept until I knew there was a derby league around here."
SVRG also contributes to the community at large by donating 10 percent of proceeds to charities and sending groups to volunteer at organizations like Habitat for Humanity or Veggielution. The league, a 501(c)4 nonprofit with more than 100 skaters, will hold the rest of its bouts for the year, starting with a home team doubleheader on Aug. 24 and a visiting team doubleheader against the Bakersfield Diamond Divas and the Tsunami Sirens on Sep. 20.