Arts
'Spotlight on Elizabeth Murray'
at Stanford
A new Anderson Collection exhibit looks back on an
artist unconstrained by the frame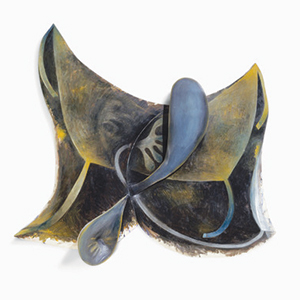 Elizabeth Murray's paintings aren't contained within picture frames. They burst through, out of and beyond the confines of ordinary rectangles. "Spotlight on Elizabeth Murray" (at Stanford University's Anderson Collection through March 25) features nearly a dozen of her oddly shaped constructions.
Instead of making a collage to fit inside of a frame, Murray (1940-2007) started each new work by sketching out her ideas. Then her bulbous, gangly forms would come to dictate the organic shapes of her canvases.
The massive painting Bop (2002-2003) epitomizes her approach. It's an amalgamation of bold colors that challenges the viewer to come up with a logical response to it. A geometry assignment given at a clown college with a garish palette to match. Ketchup red outlines a distended yellow letter "M," which, in turn, exhales a teal ghost. The ghost is about to collide into a pink worm with holes cut out of its midsection. Red squares frame the holes. There's a brighter pink cloud, floating vertically, digesting a green zigzag or lightning bolt. It's neighboring a dark blue double bladder containing a game of Connect the Dots. And that's only the top half.
Murray was interviewed during the process of making Bop. She said, "What I'm looking for is resolution. I have it one day, and I don't have it the next day." That resolution or irresolution comes through in every colliding shape and color. Bop is often described as cartoonish. The brash, inflated disharmonies make it so. But Murray's exaggerated shapes aren't accompanied by a narrative. Her painting alone is an exclamation articulated. It's equivalent to, yet beyond, language.
In the excellent American Masters biographical documentary Everybody Knows, filmed over the last years of Murray's life, she talks about her efforts "to put content into abstraction." In a sensible sounding voiceover, Meryl Streep reads excerpts from Murray's journals. They don't reveal the exact or intended meanings of the work but offer more insights to her general approach.
Murray writes, "How does one become an artist? An artist signifies not just someone who crafts art. It is a way of thinking about life. A consciousness of the magic of life." Mouse Cup reflects her particular way of thinking about life. And, as with most of Murray's paintings, her titles provide viewers with a clue, or a possible way of looking at her work. You can make out the cup, a coffee mug, as the liquid begins to spill and the vessel itself begins to break. Gray steam seeps up out of the beverage and then down the sides. The heat could be causing the split in the canvas. Or is it caused by the hand with five fingers and a thumb (that's six digits)? It's extending away from the same gray steam, stretching to grasp the handle. Murray nods to a mundane aspect of domesticity, the morning cup of coffee. And she gives it an innocuous title as if to deflect our attention away from what's right in front of our eyes—something in her home is falling apart.
Twenty-seven years after graduating from the School of the Art Institute of Chicago, Murray returned to her alma mater to give a lecture in 1989. In an audio excerpt, she cites Willem de Kooning as an early influence, explaining what his work taught her: "To learn how to look, to learn how to feel how alive a painting is."
There's a bright orange cat at the pink center of Abraham. But you might miss his triangular-shaped head in the midst of all the squiggles, jagged lines and blotches. The Anderson only labels it as "gouache and watercolor pen on collaged paper on foam."
But even without any biographical information, Abraham must have been one of the cats who roamed around the country barn Murray painted in. The controlled chaos circles around him, an expression of an active cat's zooming mind. Like de Kooning, she teaches us how to look at the way her hand moves the brush across the canvas. Murray's playful approach to form and color can be cartoonish, but you can't avoid the feeling that her paintings are alive and in perpetual motion.
Spotlight on Elizabeth Murray
Thru Mar 25
Anderson Collection, Stanford
anderson.stanford.edu