Arts
Stephen Beal's 'Warp and Weft' Features Geometric Abstractions
Berkeley artist Stephen Beal has found his niche working within the grid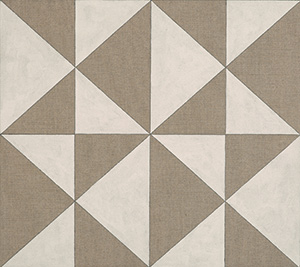 At a time when so much of contemporary art is about combining disparate found objects in order to create weird and puzzling assemblage, it is refreshing to find an artist who revels in creating art that celebrates the formal elements and requires—actually invites—close scrutiny.
Berkeley artist Stephen Beal has found his niche working within the grid, using it as a formal structure from which to explore geometric abstraction. A solo exhibition of his paintings, entitled "Warp and Weft: Selected Grid Paintings, 2005-2015," is on view at the New Museum Los Gatos. The show, which is a collaborative effort between the recently opened museum and the George Lawson Gallery in San Francisco, runs until Jan. 3.
The museum, located in the Los Gatos Civic Center, aims to combine both art and history in its exhibition schedule. Lisa Coscino, NUMU's executive director, says that the Beal show is the museum's first "pure art show, in which form follows function."
"We wanted to do a beautiful, quiet show," she explains, adding that she was familiar with Beal, both as a working artist and in his role as president of the California College of the Arts.
Beal, who holds degrees in art from Occidental College and the School of the Art Institute of Chicago, somehow manages to juggle being an arts administrator and a working artist. "For me, my studio practice has always informed my teaching and academic administrative duties."
Working out of a large, light-filled studio in Berkeley, Beal begins by making his own stretchers and preparing the grounds on his chosen platform (he works on wood, linen or canvas). The time-consuming process of laying out the grid, which the artist claims is like "the ritual of practicing scales in music," happens next. From there, Beal decides on the structure of the imagery and exactly what materials (paint, brushes) he will use. With the grid as the underlying armature, he is free to explore line, shape and color. Although it sounds very exacting, Beal claims there is always an element of surprise for him.
"I am always interested in the way the paintings change as the grids fill up and how the space and geometry of the paintings evolve," he says. And while he cites Agnes Martin and Sol Lewitt as influences, Beal's work is not based on conceptual or minimalist concerns so much as it just seems to pay homage to the beauty of patterns.
In Untitled #5 (from the Linens), the canvas is divided into rectangles, then subdivided into triangles. The alternating hues of brown and ivory meet at nexus points, then contrast each other as solid forms. Just when you think you have figured out the sequence, another possibility appears. Like a tangram (a Chinese dissection puzzle), it is both intriguing and mesmerizing.
Untitled #1 (from the Whites) consists of acrylic gouache on vertical grained fir panel. In this series, the grid and the wood grain are obscured by a mottled application of paint that resembles cloth. Meticulously drawn, zig-zagging lines interweave and intersect to create a playing field of right angles, squares and diamond shapes.
Beal seems to enjoy quiet, muted colors that give all of his work a meditative air. The earliest pieces in the exhibition (again created on fir panel) seem to employ a pointillist approach with daubs of contrasting colors applied in close proximity, set on top of the grid. Perhaps in a nod to op art, the eye separates the colors when viewed at a distance, while up close the effect is a bit of retinal topsy-turvy.
The title of the exhibition seems particularly apt when viewing Beal's most recent works, larger- scale acrylic paintings on muslin. Soft shades of blue, purple, tan and pink are organized into distinctly argyle patterns. Associations with a cozy pair of warm socks or your Uncle Henry's favorite vest might immediately spring to mind.
With all the order and precision inherent in Beal's art, one might assume the artist's personality parallels his paintings. "Sadly, it doesn't," he says. "I'm not very organized or precise—in fact my method and practice can be quite chaotic."
Nonetheless, Stephen Beal achieves his goal of getting the viewer to stop and look closely. In an age of instant everything, that is quite a feat.
Sheryl Nonnenberg is an art researcher/writer.
'Warp and Weft'
Thru Jan 3, Free-$5