Arts
The Pinball Wizards Come
to Santa Clara
Professional tournament comes to town as part of classic arcade game event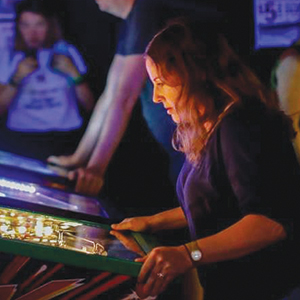 As the world rushes headlong into its digital future, the bulky metal contraptions we call pinball machines might seem like a curious anachronism. But in 2018, those contraptions have a lot going for them.
"It's what I call 'RR:' real reality," says Josh Sharpe. "Pinball uses gravity and real physics, and that's simply not an experience that can be reproduced in a digital fashion."
Sharpe is the associate director of the International Flip Pinball Association. His organization is putting on a pinball tournament weekend as part of the California Extreme classic arcade show at the Hilton in Santa Clara. There, fans have a chance to take part in the game's 21st century history, vying for a score high enough to land an invitation to the final round in Chicago—where the world's undisputed pinball champion will be determined.
Profoundly analog and localized, pinball is the veritable opposite of a download. Not only a tangible object bound by real-world physics, pinball machines themselves are intricate feats of engineering, made up of thousands of tiny parts. Different titles feature unique elements and modes of play, meaning that each game is its own experience.
"I think the most special thing about pinball is that it serves a variety of angles," Sharpe says. "There are people that embrace the art of pinball. There are people that focus on customizing and modding their pinball machines, similar to hot rods with cars. There are people that focus on the inner workings of the game, fixing them up, and so on."
And like any game worth its salt, pinball has also birthed a dedicated competitive culture. While this is the first year for the Pro Circuit, IFPA held a championship last year where 24-year-old Raymond Davidson was crowned the game's No. 1 player, a title he will be defending in Circuit's final round.
Sharpe is a top-20 rated player himself, though he trails behind his brother Zach, who holds the No. 2 spot under Davidson. For both of them, pinball is a family affair. It was, after all, their father Roger Sharpe, who in 1976 made a history-altering shot in a New York courtroom.
On trial that morning was the very fate of the game itself. Long outlawed in New York, where it was considered a form on gambling, Roger Sharpe was determined to prove that pinball was, in fact, a game of skill.
There were two games in the courtroom that morning, both of which were built by Gottlieb, one of pinball's major developers. On one side of the room was a billiards-themed machine called Bank Shot. On the other, El Dorado, styled after Spaghetti Westerns. Roger approached El Dorado. Before he could play, the council interrupted. Fearing that the player's preferred machine might have been rigged, they sent him across the room to the other game. Pinball's future would depend on Bank Shot.
After explaining the basic maneuvers to the councilmen, Sharpe (considered one of the best players in the world) made a bold move: He called his next shot. On the next turn, he announced, he would shoot the ball down the center passage. The council watched incredulously as he pulled the plunger. When the ball came down the chute he paused, waiting to time his shot just right, then he hit the flipper. The ball shot down the center. The council immediately voted 6-0 to overturn the ban on pinball.
These days, Roger doesn't play as often as he used to, having long ago passed the torch to his sons Zach and Josh. And now, with players like Davidson, and the emergence of the Pro Circuit, that torch will soon be passing again, this time to a generation of players who never saw the game during its 20st century heyday.
"For years Zach and myself were the youngest players competing out there," Josh says. "It's reassuring to know that there's a whole new generation of excellent players behind us that will carry the torch forward for years to come."
For those who wish to try their hand against the pros, walk-in sign ups are open Friday, 4-6pm, and Saturday, noon-5pm.
BayBurgh 2018: A Stern Pro Circuit Tournament
July 27-29
$50
The Hilton, Santa Clara
caextreme.org/2018Tournament