Arts
In Nature's Shadow at SJICA
'Tender Exchanges' uses light and its absence to pull viewers in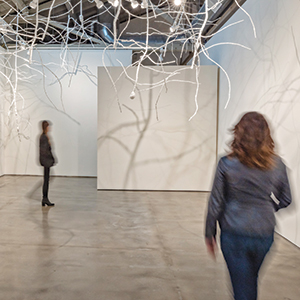 Wintry pendulous branches cast corresponding shadows against the gallery walls in Lorrie Fredette's "Tender Exchanges." Trunkless, they extend themselves in every direction, entangled around the metal air ducts and track lighting. One looks fit to burst through the skylight on the roof. A single, benign white pod—suggestive of a giant insect's egg sac—dangles in front of your face at eye level.
The gnarled, ungainly shapes are at odds with the lack of pigment. On real trees, these branches could be claws reaching out to harm strangers lost in an enchanted forest. But here they're bleached out to the pale color of something mild and antiseptic.
"In this particular show, I'm working with plaster and gauze bandage, which are the traditional materials for casts for broken bones, for things that need mending," Fredette explains. And while her sculptures may resemble the leafless limbs of deciduous trees or some spare, bare shrubbery that's been whitewashed, the artist discloses what that pregnant, lonely pod actually is.
"It's not uncommon for neurons to have a little bulbous form at the end or within their structure, as is also true for plants to have a root bulb," she says. Fredette has turned a group of microscopic neurons into a sculpted, bleached out forest that's so disinterested in the laws of gravity it's decided to float up the gallery walls, not unlike the way thoughts drift through and then out of the mind.
"Beauty is a really good word that I assign to my work," Fredette adds. "It's something I'm always working toward, because I believe we walk toward beauty, and we will turn away from things that are upsetting or repulsive or we deem ugly."
She's spent at least a decade observing people and how they interact with works of art. That's a major part of why she does installations like this one, as well as, she says, "to give them the sense of awe. 'Tender Exchanges' is an obvious inversion of micro and macro. But we have so few immersive experiences that just make us stop."
One aspect of the exhibit that makes you stop is the placement of the structures and how their silhouettes multiply when the light hits them from various angles. After Fredette graduated from college with an art degree, she went into theater, which, she says, is a great place for someone with a background in sculpture to go. "I could take all the skills that I learned and apply them in the properties department."
In the scene shop, she was able to do mold-making and casting. During technical rehearsals, she would listen to the conversations between the director, the designers and the actors and saw how lighting "played a huge part in that emotive quality that brings out a little something extra in the experience."
Lighting, in this case, adds another dimension to the physical objects suspended from above. Their shadows are of equal weight to the piece as a whole because they suggest a contrasting set of emotions. Fredette had a clean slate when she first visited San Jose to see the gallery space where her work would later be displayed. But she had been reading the autobiography of Santiago Ramón y Cajal (1852-1934), a Spanish scientist who, in some circles, is considered to be the father of neuroscience.
At the same time as she was reading about his life and work, Fredette had also been reading about the root structures of plants and trees. "I was trying to make some kind of parallel, and I was hoping that the space might lend itself to work something out," she says. Her practice is a way for her "to try to understand what I don't know or don't understand."
Pursuing scientific topics like these hybrid neuron-roots came to her in an organic way. On the hour-long train ride to a job in New York City, Fredette noticed that most of the commuters would leave the science section of the newspaper behind and unread. She would take it with her and read it on the commute back home. "I was curious as to why it was being left behind," she says. "Then I quickly realized that I really wasn't understanding what I was reading, and the best way I know to gain some kind of comprehension is to take it into the studio and noodle it out."
Tender Exchanges
Thru Feb 10
San Jose Institute of Contemporary Art
sjica.org