Arts
'The Book of Mormon'
Makes it's San Jose Debut
'The Book of Mormon' asks audience to laugh at and love religion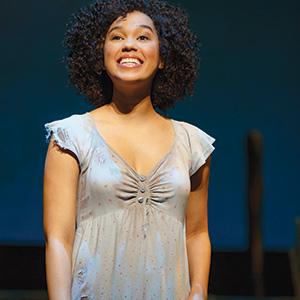 The Book of Mormon is a juggernaut among modern Broadway musicals. With nine Tony Awards, including Best Musical, the production is responsible for shattering 81 house records in 44 venues across the country.
And so it should come as little surprise that the musical broke records for ticket sales at San Jose's Center for the Performing Arts last week—grossing $1.85 million for the week ending in July 5, during Mormon's South Bay debut.
Mormon is the story of two young missionaries sent to Uganda by the Church of Jesus Christ of Latter Day Saints. Their charge: spread the good news of their faith. However, upon arrival they discover the local villagers—suffering under the rule of a cruel warlord—are more concerned with issues of poverty, disease, famine and violence than matters of religion.
Further complicating matters, our two would-be prosthelytizers are hopelessly mismatched—with one suffering from an inflated ego, the result of growing up a big fish in a small pond, and the other a pathological liar. Sounds like a barrel of laughs, right?
In the vulgar hands of writers Matt Stone and Trey Parker (they of South Park fame) and Robert Lopez (who co-wrote the songs of Frozen and Avenue Q) it certainly is.
Book of Mormon, the nine-time Tony Award-winning musical comedy, is making its South Bay debut, with 16 shows running from June 30 to July 12 at the Center for the Performing Arts.
After seeing Mormon for the first time, it is clear why this production was dubbed "the best musical of this century," by Ben Brantley of The New York Times. It's a laugh riot—which tumbles forward with infectious energy, as it bounds from one uproarious number to the next.
From show opener, "Hello!," it is at once clear that Parker, Stone and Lopez, are masters of the showtune craft. Rich harmonies, familiar song structures and catchy arrangements, nod to classic musical tropes with both reverence as well as plenty a self-aware wink.
"Hasa Diga Eebowai" (translation: "Fuck You, God"), owes plenty to Elton John's "The Circle of Life," from The Lion King—so much so, that the sacrilegious tune seems like something you'd sing with your kindergartner on the way to school.
Of course, the songs, music and book can only go so far in carrying a musical. That's where the cast comes in.
The Book of Mormon's touring ensemble is excellent. The musical's core trio of actors and singers—Billy Harrigan Tighe, as Elder Kevin Price; A.J. Holmes, as Elder Arnold Cunningham; and Alexandria Ncube, as Nabulungi—impress in nearly every scene.
Tighe, as Elder Price, skillfully moves from exuding naive confidence in "You and Me (But Mostly Me)," to deep self-doubt and dejection as he quaffs cup after cup of coffee at a cafe.
Similarly, Holmes' Elder Cunningham, deftly captures the neurosis of his character—drawing laughter with his wild-eyed grins and explosive Tourette's-like spasms and cackles.
Ncube, however, is the clear scene-stealer here. She radiates innocence, uncomplicated beauty and kindness at every turn of the first act, and finds a place somewhere between righteous indignation and disillusionment in the second, after learning that the missionaries she believed would spirit her away to "Sal Tlay Ka Siti" plan to leave her village just as destitute as they found it.
The Center for the Performing Arts certainly plays a role in Mormon's first run of shows in San Jose. The massive and round 2,677-seat auditorium is a venue South Bay residents can take pride in.
Book of Mormon certainly doesn't pull any punches, but it is not overly cruel, either. And therein lies the secret to the musical's power and popularity. The production finds a sweet spot between lampooning organized religion—all organized religion—and recognizing faith's ability to unite people for the common good.
Karla Kane contributed to this story.
Book of Mormon
Thru Jul 12, $28-$228