Arts
Surrealism Exhibit Dives Deep
Going beyond Dalí and Magritte at the Cantor Arts Center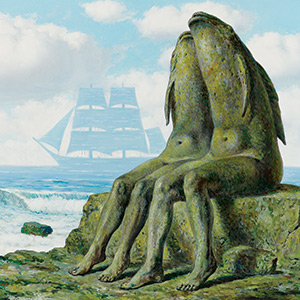 Nearly 100 years after the French writer André Breton published his Manifesto of Surrealism in 1924, "The Conjured Life: The Legacy of Surrealism" successfully rehabilitates the movement's significance and enduring influence. Expanding on an exhibit that closed earlier this year at the Museum of Contemporary Art Chicago, the exhibit polishes up the tarnished image of Surrealists by omitting the most famous, endlessly reproduced hits like Dalí's melting clocks and Magritte's bowler hats.
By juxtaposing the old with the new, the careful, coherent curation at Stanford's Cantor Arts Center confers a recherché quality on works that might otherwise be gathering a coating of dust. Cindy Sherman is represented by Untitled #188 1989, a lurid photograph of a blow-up doll with splayed legs, surely receiving cunnilingus by a faceless monster. Her twisted body lies on a riotous bed of bric-a-brac, colorful found objects—all sharp-edged and metallic.
Sherman's photograph hangs in a separate part of the gallery from the Balthus painting Two Young Girls, 1949. Essentially, she's turned his work upside down, recomposing his seated naked girl in her unnatural posture—her left knee bent up, her hips turned toward the viewer to reveal the top of her mons pubis, her bare breasts, strangely nippleless, also on display. For Sherman, it isn't enough that the second girl in the painting, though clothed, stares out of a window and away from Balthus' uncomfortably intimate scene. Her photograph distills his image down to the ne plus ultra version of a pornographic still, but as told from the woman's point of view. Her subject is literally reduced and transformed into an object, a plastic one at that, by the male gaze.
The short-lived American photographer Francesca Woodman was a more recessive artist than Sherman. Three of her black and white images capture thrilling, haunted effects of phantom figures. In an empty house, an outstretched arm waves a white cloth in the center of a doorway. A blurred-out human form crawls on its hands and knees through a hole in a heavy tombstone. A woman in a print dress, her face hidden behind a detached fireplace facade, escapes from or retreats into a dilapidated chimney. She photographs what's most vital and central to the Surrealist cause: making art out of what normally remains unspoken and unintelligible, our dream life.
The Conjured Life doesn't completely ignore the contributions of the movement's stars. There's Joan Miró, Paul Delvaux and Man Ray. In person, René Magritte's The Wonders of Nature, is much more affecting than when viewed on a screen.
The Conjured Life
Thru Apr 3, Free
Cantor Arts Center, Stanford