Arts
Symphony SV Performs
'Godfather' Score
The orchestra will provide live accompaniment to the iconic Frances Ford Coppola film.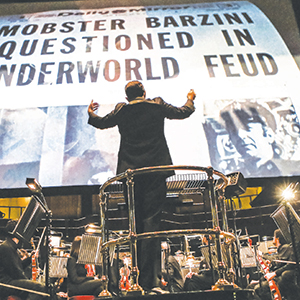 Continuing their tradition of performing classic movie scores live beneath the big screen, Symphony Silicon Valley is tackling The Godfather—playing Nino Rota's revered compositions while Al Pacino, Marlon Brando, Diane Keaton and the rest of that star-studded cast bring Francis Ford Coppola's adaptation of Mario Puzo's gangster epic to life.
Matching revered films with the dynamics of a live orchestra might seem a throwback to the silent film era. But, according to SSV's general director Andrew Bales, the marriage of live music and talkies is a new—but increasingly popular—art form. The demand for such productions is growing around the world, Bales says, pointing to the recent success Symphony Silicon Valley had live-scoring The Lord of The Rings.
Music can bring polish and measure to an otherwise lackluster movie, and it can make a great film sublime. But it's often the thing most overlooked by audiences. However, when a film's score is performed live, all the nuance and craftsmanship of the composition is magnified. The orchestra forces an audience to take notice.
'Talented artists create those sounds,' Bales says, 'and we have them here among us. Yes, they can play Mozart and Bach, but they can also play John Williams and Nino Rota.' Each movie-based production requires instruments not conventionally found in symphonies. With The Godfather's score, he explains, Symphony Silicon Valley 'went out and found the best accordion and mandolin players in the region.'
The symphony will perform everything but the vocals during the film's celebrated opening scene—in which Carmela Corleone sings 'Luna Mezz 'O Mare' while her husband doles out heavy duty favors.
While many other films have comparatively more music in their scores, the sounds of The Godfather pack a serious emotional punch, Bales says. 'The music here is so pointed, so apt, and so iconic to people, it almost chills to the bone.'
In the proverbial record books of critics come and gone, The Godfather's score has been called the fifth-best ever written for a movie. 'I don't know if it's the fifth-best,' Bales says, 'but that solo trumpet line that everyone knows well, it's just so extraordinary. To have that ring out live while you're watching the movie is an exhilarating event.'
The Godfather: Live in Concert
Apr 8-10, Fri-Sat: 7pm, Sun: 2pm, $70-$95
San Jose Center for the Performing Arts