Arts
The Bad Grad
Palo Alto Players have a fresh, funny take on 'The Graduate'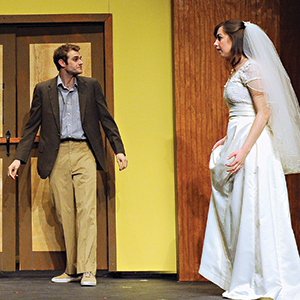 Since its release as a novel in 1963, followed shortly after by the classic 1967 film starring Dustin Hoffman and Anne Bancroft, The Graduate has been an important cultural point of reference. Nearly a half century later, it has been baked into the radioactive background of American life.
Now it's the Palo Alto Players' turn to take a stab at the eminent coming-of-age comedy.
The play opens on Benjamin Braddock sitting awkwardly on his bed. He's wearing a wet suit his father bought him and is dreading facing a sea of people downstairs—all there to celebrate his college graduation. Benjamin almost is prepared to escape his house and avoid the party entirely when a family friend—Mrs. Robinson—finds her way into his room while looking for a place to rest. Before Benjamin can protest, Mrs. Robinson is undressing in a successful attempt to seduce him. That evening marks the beginning of an affair between them, one that will transform their respective families and eventually push all of the characters toward a dangerous and life-altering conclusion.
All of the actors in this production are performing in tip-top shape. Benjamin's parents (portrayed by Raegena Raymond-Brunker and Shawn Bender) play the supportive, but equally smothering, old-school parents perfectly, down to their fallacious singsongy optimism. The tricky role of Elaine Robinson, played by Michelle Skinner, manages the combination of naive and worldly with a great spacey touch. Her father, Mr. Robinson (played by Mark Novak) too portrays a friend of the family in a charmingly maudlin manner. The hugely complex role of Mrs. Robinson is taken by Betsy Kruse Craig with a tempting—but very human—sex appeal. She's can be both unflappable and fragile, but above all she is cool as a cucumber. The standout performance goes to Max Tachis as Benjamin. He artfully combines gawky with funny, slick with silly, in a way that slowly unveils the character's maladjustments. He's a psychopathic stalker when it comes down to it, but Tachis plays it to a endearing and believable degree.
Talking about problems with the script is unavoidable. This is a not an easy story to convert from screen to stage. Playing more like a reader's digest version than the actual story, The Graduate stage play leaves little room for depth, cutting between space and time, condensing plot points and progressions into a series of hurried vignettes. These changes are understandable in some places, but others—like the infamous scene of seduction by Mrs. Robinson—are crammed to fit in between layers of exposition, sweeping all the tension and bite of the scene into a spinning wheel of action.
Luckily the cast rise to the challenges of the script, and often supersede its haphazardness, giving the pinwheel-like nature of the script some places to drop anchors. Although there isn't much ensemble work, the cast practically functions as one in their ability to maintain a cohesive pace without neglecting character development. And where the original film played off of novelty and awkward sexual humor to great effect, it comes from a sophisticated place—something that is retained in Palo Alto's adaptation—even with all the glimpses of cheeky nudity. Benjamin's uptight, if not eventually disturbing, neurosis opens a door for all the characters to come into their dysfunctional own. From the bit part of a homeless character to Mrs. Robinson herself, all are equally fun and believable.
And where the original script falters in its composition, the Palo Alto Players production shines in its affectations. The set is spare and unadorned, consisting of four layers of wood-paneled walls—'60s-style—jutting out from the wings. The play takes place entirely in this setting, with hotel rooms and smoky bars being rolled in and out in a believable way.
In everything from succinct but timely musical cues to the moody, noirish light that bathes certain scenes and characters, Palo Alto Theater Company nails the feel of the characters and, moreover, the steamy danger and uncertainty that lurk at the heart of this comedy.
Everyone remembers the famous scenes of taboo and temptation, but The Graduate was always more than a sexy romp. It's a story about pretense, identity, autonomy and, of course, sex. In the context of Palo Alto Players' adaptation, the witty, often ribald humor and cautionary themes about desire are more timely than ever.
The Graduate
Thru Jul 2
Lucie Stern Theater, Palo Alto
paplayers.org