Arts
Priceless Artifacts
'The Museum of Sentimental Taxonomy' explores the nature of personal value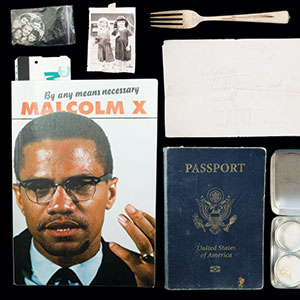 "I've always been interested in the way that the collective memory of a family's history is passed down through generations," says photographer Kija Lucas. She records those memories in the Montalvo Arts Center exhibit, "The Museum of Sentimental Taxonomy."
Lucas sends an open call to the public, asking that people bring in objects that are meaningful to them. Then she arranges a temporary space in a community center or library in order to document the objects. "A participant will come in with their object, or multiple objects," Lucas explains. After she photographs it, they'll either write something down or she'll interview them to hear the backstory.
There's a wide range of items that people bring in, from keys and journals to cassette tapes and ticket stubs. Lucas is interested in the way "we make imprints on each other, and how we decide what's valuable and useful." When she started the project in 2014, she titled it, "Objects To Remember You By: An Index Of Sentiment." After she had progressed beyond the initial idea, Lucas changed the name. She wanted to exhibit these sentimental objects as if they'd been curated for a museum show. In addition to recording someone's object and their associations with it, the concept of her "Museum" became an active commentary on what's typically sought after by curators.
"I'm interested in museums that employ a certain group of people, who have a certain education, who decide what's valuable and what histories should be told," she says. Something with sentimental value might not have any monetary value, and it might not have any meaning to anyone else. "But this person's history might not be told otherwise. I feel like everybody's stories are equally as valuable."
Participants often bring in jewelry and family photographs, but there are anomalies. Lucas photographs each person's object separately and returns the item on the spot. Later, she'll put the photographs together in a collage. Somebody's crushed aluminum soda can sits above an old coat, a vial of pills, a doll or a violin.
At first, she'd lay them out chronologically, but the final arrangement now comes down to how the objects fit in the space. "I like to think about how objects are displayed in a museum," she says about her approach. "These are all things that people hold dear, and they're put in context with one another because we all have things that we carry through life." Lucas is connecting with different individuals and linking their stories together.
But she doesn't ever photograph people. "I think of these objects as a portrait of the person who brings it in," she says. "This is something that they live with and it has some of their—forgive me for using this word—but some of their aura with it." People will worry if the object is cool or if Lucas will be interested in it. What's important to her is that it's sentimental to another person. Lucas explains that even if she doesn't feel strongly about it, that doesn't matter. Her work is about the people who bring the objects in. "Their story is worth being told. I feel like that's a huge gift to be able to hold space for people to tell their stories."
Lucas has also taken photographs of her own sentimental objects. "I found my father's business card at my brother's house." Her father, who died in 1998, was a gardener. Some of her strongest memories of being with him are associated with his work outdoors, the smell of freshly cut trees and grass. Another object also connects her to her dad. Her older brother found a copy of a book she'd forgotten about, James Baldwin's Notes of a Native Son. Inside their father had written to her on her 16th birthday, "I hope this book helps you find what you're looking for. Love, Dad."
"That was so huge, having his handwritten note to me."
"The Museum of Sentimental Taxonomy" is part of Montalvo's ongoing project, "Social: Rethinking Loneliness Together," which includes art installations, lectures and classes designed to join audiences in "a shared conversation exploring loneliness, together." Lucas's "Museum" is open-ended. On set days in February, March and April, she'll be at Montalvo with a temporary studio space to take more photographs of your sentimental objects.
The Museum of Sentimental Taxonomy
Thru April 26, 2020
Montalvo Arts Center, Saratoga
montalvoarts.org