Arts
'The Wireless Age'
at History San Jose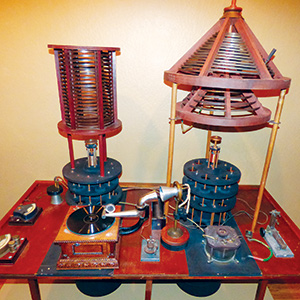 The Perham Collection of Early Electronics is one of the hidden treasures of History San Jose's archives. Normally the collection sits in storage, but as of this weekend, several pieces come to light in a new exhibit, The Wireless Age: Electronics Entrepreneurs Before Silicon Valley (1900-1960). Everything, from ancient vacuum tubes to decades-old Ampex tape decks, comes alive—animated by the stories behind them. We see Hewlett-Packard's second-ever oscillator as well as some old-school surveillance equipment that inspired novels and films. The show begins in the year 1900 and snakes through the entire Arbuckle Gallery in the Pacific Hotel at History Park. It's not just for electronics geeks.
"This was the age of the single inventor, before the corporations took over," says Cate Mills, the exhibit's curator.
The machinery itself conveys a beautifully odd effect in its presentation, somewhere between a Twilight Zone episode and an old ham radio textbook. A mockup of Doc Herrold's original radio broadcasting setup, which unfolded right at First and San Fernando in 1908, sits behind plexiglass in one corner. We see his original broadcast microphone, replete with water hoses for cooling, plus an acoustic Victrola. Not too far away, the Ampex table includes original tape recorders and even an HP model 200B oscillator, which Disney used to monitor low-frequency sound levels during performances of the original Fantasia movie.
The equipment alone, however, would not make for a spectacular exhibit. It's the stories behind the equipment that are the most fascinating aspects of the show. In the case of Ampex, for example, long before the company developed the first home stereo music system in 1955, it developed lightweight magnet motors and generators for the U.S. military's airborne radar equipment. In 1944. Russian immigrant Alexander M. Poniatoff started the company from a loft in San Carlos.
And then there's Leo Jones, who pioneered electronic surveillance technology and countermeasure devices at the onset of the Cold War era. Among other gadgets, Jones developed new ways of equipping briefcases and purses with wiretapping equipment. Jones was the technical advisor and the inspiration for the lead character in Francis Ford Coppola's movie The Conversation. In the Leo Jones section of the exhibit, we even see a 1972 letter from Coppola, asking Jones to make sure all the equipment in the movie is authentic.
All in all, the individuals portrayed in the show were young entrepreneurial types, inventors, engineers and tinkerers who did things their own way. They didn't care about business managers, PR or salespeople. The inventions they created led directly to the growth of Silicon Valley.
The Wireless Age
Sep 6, 11am, Free