Arts
Power Pop
Mountain View native's 'Tiger Beat' explores sexism and representation in pop music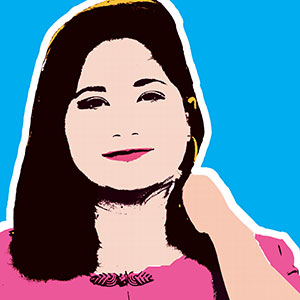 As society begins to reemerge, so too has discussion about the shameful treatment of female celebrities over the last two decades and beyond.
In recent years, Britney Spears, Megan Fox, Paris Hilton and Jessica Simpson have all spoken out about their mistreatment by the press and public. With each story, new heartbreaking admissions illuminate the abuse these women and others faced in the endless churn of celebrity.
Now, playwright Kaela Mei-Shing Garvin has brought to life the complicated relationship between pop stardom and the exploitation of women through new play "Tiger Beat," premiering in the Bay Area Playwrights Festival this Saturday.
Garvin—who uses they/them pronouns—began working on the play in 2018 as a MFA candidate at Indiana University Bloomington, but the inspiration comes from much earlier. "Tiger Beat" is set in 2003, when Britney Spears was at the height of her fame and Paris Hilton was visiting rural America on The Simple Life.
Back then, Garvin was just beginning to learn about the theater world themself through performance groups in their hometown of Mountain View and nearby Los Altos.
"I remember a castmate telling me, 'I think you can make a career out of this,' and I thought of nothing else for the rest of my life," they say. "I was hooked — I loved the live aspect of theater."
However, while studying at NYU's Drama program, Garvin noticed little Asian-American or bigger-bodied representation on the stage, and began to see first-hand how other BIPOC actors and theater members had been mistreated.
"People were not sure what to do with me," they say. "Did I want to play the character actor or the comedic relief for the rest of my life? I decided I wanted to be in charge of creating those stories."
Garvin switched focus from acting to playwriting. After graduating, they continued to write and self-produce work in New York City, then enrolled in an MFA program at Indiana University Bloomington, which led to the beginnings of "Tiger Beat."
"'Tiger Beat' came about as an amalgamation of my obsessions," Garvin says. "I'm foremost obsessed with pop culture and pop music, in particular the era that [the play] is set. This era of pop was such a moment."
The play tells the story of The Girls Next Door, a pop group rising to fame in the early 2000s. When the group's Asian-American songwriter Tess gets the opportunity to sing lead, she's excited, but also questions how the opportunity will impact the group as a whole.
Alongside Garvin's obsession with millennial pop, the play explores mixed-identity representation, sexism in the industry and American Imperialism in the Iraq War.
"We want to question the narratives we've been told, and the stories we are listening to," they say. "How can I create a loving representation for my queer family and my Asian-American family all on stage?"
While connecting over Zoom earlier this year, the play's director Jessica Holt felt an instant kinship with Garvin. "Both of us felt like we had found a kindred spirit in a collaborator...I'm so happy they selected me to work on this play," she says.
Dramaturg Natalia Duong also felt connected, having similarly been invested in centering Asian-American experiences in the largely white theatre industry, as well as incorporating recent social movements such as #MeToo, Black Lives Matter and #FreeBritney into the stage.
"We're trying to be very aware of how these larger social-political movements are being reflected in the play," Duong says. "I do think they have shifted how a 2000 vs. a 2021 audience would view this, which is different from how Kaela may have imagined it when they started in 2018."
Holt agrees.
"This play is about agency and women doing what they want with their own voices and bodies, which is all the more timely given the #FreeBritney movement and the latest developments surrounding her conservatorship."
Ultimately, Garvin aims to make audiences feel a wide swath of emotions, and come out with more space for intellectual interrogation.
"I hope that the people in my community who see the play experience an idea of how we can live and create in the world," they say, "and how we can have our actions align with our values."
TIGER BEAT
Sat, 11:30am, $5+
playwrightsfoundation.org